Clark, Paul (2004) Peel Place Quarry Proposed Western Extension, Cumbria. Archaeological Evaluation. Project Report. Oxford Archaeology North. (Unpublished)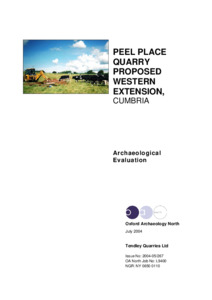 Preview
PDF




peel place evaluation report.pdf


Download (1MB) | Preview
Abstract
Oxford Archaeology North (OA North) was commissioned by Tendley Quarries Ltd to undertake an archaeological evaluation for the purposes of an Environmental Impact Assessment for a proposed expansion (centred on NY 0650 0110) of Peel Place Quarry, Holmrook, Cumbria. This work follows on from an initial scheme of archaeological work comprising a desk-based assessment and walkover survey (OA
North 2004) and a geophysical survey (Stratascan 2004) of the proposed western extension.
In agreement with Cumbria County Archaeology Service (CCCAS), four evaluation trenches were excavated over areas of geophysical anomalies, initially utilising a JCB 3CX equipped with a toothless ditching bucket, followed by manual cleaning of the trenches. The trenches varied in length from 15m to 30m and were all excavated to a
width of 1.8m.
The trenches were excavated to the top of the natural geology, which consisted of a mixture of sands and gravels. A single archaeological feature, a ditch, was identified
within Trench 3. The ditch contained pottery evidence, which was dated to between the late seventeenth and early twentieth centuries. From the evaluation it appeared to
be a field boundary that had since become relict. When compared to the mapping evidence from the desk-based assessment (OA North 2004) it correlates with a field
boundary recorded on the Ordnance Survey first edition map of 1865. This field system is likely to be the remains of the medieval strip fields, and the ditch located during the evaluation may be of medieval origin. No evidence of the ditch was seen in the geophysical survey results. Therefore, there exists the potential for other remains associated with the field system identified in the desk-based assessment to be located across the site.
Actions (login required)