Druce, Denise (2006) Manor House Farm, Rufford, Lancashire. Paleoenvironmental Assessment. Project Report. Oxford Archaeology North. (Unpublished)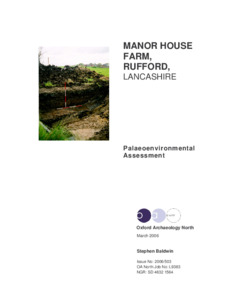 Preview
PDF




Report.pdf


Download (1MB) | Preview
Abstract
Oxford Archaeology North (OA North) was commissioned by Stephen Baldwin (Archaeological Consultant), acting as an agent on behalf of Mr and Mrs V Fitzel, to undertake a programme of environmental sampling and assessment of peat deposits at Manor House Farm, Rufford (NGR SD 4632 1564). The land was proposed for redevelopment as a boating marinar, which would have included the removal of the
area of peat. The work was carried out following the recommendations of the English Heritage scientific advisor for the North West, Sue Stallibrass.
The peat deposits were contained in a small hollow alongside the Rufford branch of the Leeds-Liverpool canal, and reached depths of up to 2.5m (Baldwin 2003). Rufford is situated on the south western stretch of the Lancashire coastal plain, which is known for its 1-5m thick coversand, the Shirdley Hill Sand. Previous research carried out has shown that the sand is often associated with complex sequences of marine/perimarine clay and silt and terrestrial peat (Tooley 1978; McAllister et al 2004; Tooley et al 2004; Wilson and Bateman 2004). This sequence has been associated with changes in Late Glacial and Holocene relative sea level change and prehistoric human exploitation and the main objectives of the investigation was to assess the deposits for their potential of providing a record of environmental change in the area.
Actions (login required)