Allen, Martyn and Boothroyd, John and Allen, Leigh and Brady, Kate and Cook, Sharon and Donnelly, Mike and Knight, Robert and Poole, Cynthia and Scott, Ian and Shaffrey, Ruth and Webb, Helen and Gane, Lucy and Kilgour, Anne A Late Iron Age/Early Roman Enclosed Settlement at Basing View, Basingstoke Archaeological Excavation Report. [Client Report] (Unpublished)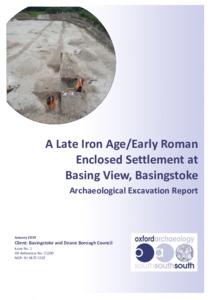 Preview
PDF




A_2017_91_client_report.pdf


Download (1MB) | Preview
Abstract
In 2018 Oxford Archaeology (OA) was commissioned by Basingstoke and Deane Borough
Council to undertake an archaeological excavation on the site of a proposed commercial
development (planning reference: 17/03775/FUL). The excavation revealed the remains of an
Early Roman enclosed settlement that possibly originated at the very end of the Iron Age. The
site consisted of a rectilinear enclosure, a series of intercutting pit groups (possibly chalk
quarrying), and numerous postholes representing several possible structures. Pottery from
the site suggests that the enclosure was laid out in the first or second decade after the Roman
conquest of AD 43. A sunken rectilinear feature, containing a neonate burial, in the northeast
corner of the enclosure may be the remains of a small building. A very small number of
features dating to the early 2nd century represent a final phase of activity before the site's
abandonment. After this point, sporadic Late Roman finds suggest that local activity was
focussed elsewhere.
Actions (login required)