Clarke, Graeme and Pullen, Alexander and James, Coyne and Maria, Buczak (2016) A14 Cambridge to Huntingdon Improvement Scheme. [Client Report] (Unpublished)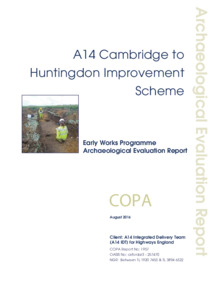 Preview
PDF




Report 1957_LR.pdf


Download (8MB) | Preview
Abstract
Between 12th May and 4th July 2016 Cotswold Oxford Pre-Construct Archaeology (COPA) carried out an a trenched evaluation on ten plots of arable farmland, as part of the early works programme on the A14 Cambridge to Huntingdon Improvement Scheme. The evaluation comprised the excavation of 122 trenches that primarily targeted cropmarks and geophysical survey results. The northern end of this phase of archaeological works was located at Matcham's Bridge, in the parish of Alconbury (TL 1920 7453), while the eastern end was located to the north of Bar Hill, in the parish of Oakington and Westwick (TL 3891 6388).
Earlier prehistoric finds from the evaluation were restricted to the recovery of a few residual worked flints of Neolithic date, and a single residual sherd of Early Neolithic Mildenhall Ware from Plot 31, Brampton (TL 192 708). An undated, but possibly prehistoric, field boundary system was revealed in Plot 28, Brampton (TL 1988 6906). Evidence for later prehistoric activity dating to the Middle and Late Iron Age was more widespread.
Extensive Iron Age settlement was found across the lower, eastern side, of Plot 24, Brampton (TL1922 7117). The trenching revealed ditched boundaries primarily of Middle Iron Age origin, belonging to a network of linked curvilinear enclosures previously recorded from aerial photography and geophysical survey. A series of palaeochannels were also recorded through this part of the plot and there exists the potential that these former watercourses were contemporary with the enclosed settlement. Further Iron Age features were revealed on the western side of Plot 24, and immediately south, on Plot 31, with remains including a possible roundhouse gully and a series of ditches suggestive of further settlement enclosures. Elsewhere, Iron Age pottery and ditches likely to be of Iron Age origin were rerecorded at Plot 1, Alconbury (TL 1919 7418) and Plot 73, Hilton (TL 2936 6786).
Evidence for Roman occupation was equally widespread on the gravels of the northern section of the scheme, and coincided with areas of Iron Age activity suggesting continuity of settlement in places. The main focus of activity was found across Plot 31, where trenching revealed an extensive network of ditched boundaries and scattered pits spanning the 1st to 4th centuries AD. The result of aerial photographic and geophysical surveys indicate that these belong to a palimpsest of ditched sub-rectangular enclosures on at least two separate alignments. Boundaries of a possible field system to the north of this settlement complex were found in the adjacent field of Plot 24.
Further south, another series of small Roman curvilinear and rectilinear enclosures was found along the eastern edge of Plot 73. These dated to the 1st to 2nd centuries AD, and contained sherds of residual Iron Age pottery suggesting they may have prehistoric origins. The adjacent field of Plot 76, Hilton (TL 3015 6775) contained poorly dated ditches, some of which yielded Roman pottery, and a scatter of discrete pits and post-holes. The ditches largely correspond to the linear features shown on the aerial photographic survey, and it is suggested that they belong to a field system extending out from a cropmark settlement complex located to the south of the plot. Other potential Roman field boundaries were found at Plot 1, located immediately north of another major cropmark complex.
Evidence of Saxon and early medieval activity was recovered on the western side of Plot 24. A series of dispersed features yielding small quantifies of Saxon pottery were excavated, including pits and ditched boundaries indicative of settlement. In addition, a scatter of undated potholes was found across the south-west area of the plot, which may have belonged to Saxon buildings. Early medieval pottery was also found at the site indicating a possible continuation of occupation into this period.
Elsewhere, medieval activity was confined to the evidence of ridge and furrow cultivation. This was widespread, with relict furrows recorded in Plots 1, 24, 28, 67 (Godmanchester, TL 2630 6792) 69, (Godmanchester, TL 2665 6770), 73 and 76. The evaluation of Plots 67, 69, 107 (Boxworth TL 3552 6572) and 130 (Boxworth, TL 3568 6525) also revealed ditches which are likely to be post-medieval or modern in date, relating to former recent boundaries on the same alignment as the existing fields. A series of post-medieval linear quarries for sand and gravel extraction were revealed in the northern part of Plot 1.
In general, the results from the evaluation demonstrate a clear bias for archaeological remains to be present on sands and gravels of the River Terrace Deposits (Plots 1, 24, 31, 28, 73 and 76) and to be absent – other than furrows and recent field boundaries – on Mudstone deposits (Plots 107 and 130) and the heavy clays comprising the Diamicton Formation (Plots 67 and 69).
Item Type:
Client Report
Uncontrolled Keywords:
COPA, copa, Evaluation, evaluation, Cambridgeshire, cambridgeshire, A14, a14, Cambridge, cambridge, Huntingdon, huntingdon, Alconbury, alconbury, Brampton, brampton, Hilton, hilton, Oakington and Westwick, Oakington, Westwick, oakington and westwick, oakington, westwick, ditch, boundary ditch, ditches, boundary ditches, roman, Roman, Iron Age, iron age, Medieval, medieval, Pottery, pottery, pot, sherd, ceramic, roman pottery, Roman pottery, Iron Age pottery, iron age pottery, Medieval pottery, medieval pottery, ridge and furrow, ridge-and-furrow, furrow, field system, agriculture, farming, farmland, cultivation, settlement, Iron Age settlement, iron age settlement, aerial photography, geophysical survey, Saxon, saxon, Anglo-Saxon, anglo-saxon, Early medieval, early medieval, Saxon pottery, saxon pottery, Anglo-Saxon pottery, anglo-saxon pottery, Early medieval pottery, early medieval pottery, building, cropmark, cropmarks, pit, pits, post holes, post hole, palaeochannel, palaeochannels, roundhouse, gully, settlement enclosure, enclosure, enclosures, animal remains, animal bones, animal bone, bone, bones, faunal remains, flint, worked flint, lithics, lithic, fired clay, kiln furniture, Cotswold Oxford Pre-Construct Archaeology, cotswold oxford pre-construct archaeology, Middle iron Age, middle iron age, report 1957, Report 1957, OAE report 1957
Subjects:
Geographical Areas > English Counties > Cambridgeshire
Period > UK Periods > Early Medieval 410 - 1066 AD
Period > UK Periods > Iron Age 800 BC - 43 AD
Period > UK Periods > Medieval 1066 - 1540 AD
Period > UK Periods > Iron Age 800 BC - 43 AD > Middle Iron Age 400 - 100 BC
Period > UK Periods > Roman 43 - 410 AD
Depositing User:

Hamilton

Date Deposited:
03 Jun 2019 09:40
Last Modified:
03 Jun 2019 09:40
URI:
http://eprints.oxfordarchaeology.com/id/eprint/4878
Actions (login required)