Boothroyd, John and Broderick, Lee and Brown, Lisa and Cook, Sharon and Donnelly, Mike and Poole, Cynthia and Scott, Ian and Shaffrey, Ruth and Wachnik, Magda and Jones, Gary Station Road, Lower Stondon, Bedfordshire. [Client Report] (Unpublished)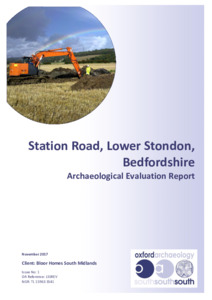 Preview
PDF




LSSR17.pdf


Download (5MB) | Preview
Abstract
In early September 2017, Oxford Archaeology undertook an archaeological
evaluation at Station Road, Lower Stondon, Bedfordshire, on the site of a
proposed housing development. A total of 18 trenches were excavated to
target the results of a geophysical survey. Cropmarks within the site suggest
the presence of Iron Age enclosures forming a small settlement in the central
southern part of the site. This was confirmed by the results of the geophysical
survey. The survey suggested that archaeological remains were confined to
the area of the cropmarks with only features related to medieval or modern
agricultural practices recorded across the rest of the site.
Ditches recorded within the trenches correlate well with the focus of activity
identified by the non-intrusive surveys. The nature of the features, along with
the material culture, pottery sherds, butchered animal bone and quern stone
fragments, are indicative of a small early to middle Iron Age settlement.
Several ditches were also recorded to the east and west of the main focus of
activity. Though not all these features are dated, some have a similar early to
middle Iron Age date, with evidence suggesting continued use into the late
Iron Age. These more isolated features have been interpreted as forming part
of the rural hinterland supporting the small settlement recorded in the central
southern part of the site.
Post-medieval plough furrows were also present in the eastern half of the site.
Actions (login required)