Schofield, Peter (2005) Uplands Initiative Field Projects 2004-5. North Berwyn (North) Survey Area. North Wales. Archaeological Survey Report. [Client Report] (Unpublished)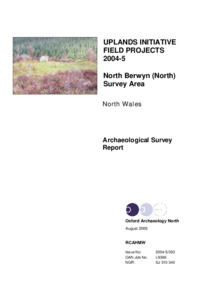 Preview
PDF




North_Berwyn_N_All.pdf


Download (37MB) | Preview
Abstract
An archaeological identification survey of the North Berwyn (North) area of North Wales (SJ 310 340 centred) was undertaken in March and April 2005 (Fig 1). The work was
undertaken by Oxford Archaeology North (OA North) on behalf of the Royal Commission on the Ancient and Historical Monuments of Wales (RCAHMW) as part of the Uplands
Initiative. The fieldwork consisted of an identification survey to identify, locate and describe archaeological and historical features within the defined survey area.
The survey area of North Berwyn (North) is on the northern edge of the Berwyn hills overlooking the Edeirnon valley and the lowland around the River Dee. Berwyn (C)3 was
designated as an Historic Landscape within the Register of Landscapes of Outstanding Historic Interest in Wales. Several of the areas on the south and east end of the Berwyn
hills have previously been surveyed by OA North (2003 and 2004a) and by Clwyd Powys Archaeological Trust (Silvester 1992 and 2005). The OA North 2004-5 survey area comprised c19.5 sqkm of predominantly large tracts of heather moorland, which for the most part has been given over to sports shooting associated with the Rhug estate.
In total, the survey identified 152 new sites, but also involved the enhancement of 16 previously identified sites, which together made a total of 168 sites overall from within the study area. The new sites included a ring cairn, a variant stone circle, a group of large cairns, two areas of prehistoric clearance, two enclosures, five buildings and settlement, two trackways, three quarries, two leats, two trial workings, 25 sheepfolds/shelters, 29 boundary markers and 75 shooting stands.
Actions (login required)