Schofield, Peter (2005) Uplands Initiative Field Projects 2004-2005, Eastern Snowdonia (Central) Survey Area. North Wales. Archaeological Survey Report. Project Report. Oxford Archaeology North. (Unpublished)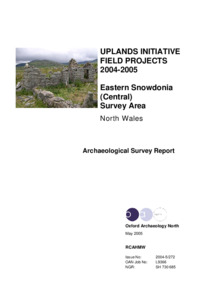 Preview
PDF




East_Snowdonia_Central_All.pdf


Download (50MB) | Preview
Abstract
An archaeological identification survey of the Eastern Snowdonia (Central) area of North Wales (SH 730 685 centred) was undertaken in June and July 2004 (Fig 1). The work was
undertaken by Oxford Archaeology North (OA North) on behalf of the Royal Commission on the Ancient and Historical Monuments of Wales (RCAHMW) as part of the Uplands
Initiative. The fieldwork consisted of an identification survey to identify, locate and describe archaeological and historical features within the defined survey area.
The survey area of Eastern Snowdonia (Central) is located on the northern edge of the Snowdonia range within the old county of Caenarvonshire, on open crags forming the
flanks of the Carneddau ridge and moorland plateaux overlooking the Conwy valley to the east. The study area incorporates part of the Lower Conwy Valley (Gw)4 Historic
Landscape within the Register of Landscapes of Outstanding Historic Interest in Wales.
The area of Eastern Snowdonia to the north of the present study area was previously surveyed by OA North (2004b), and an extensive area of Eastern Snowdonia to the south of
the study area has been previously surveyed by Cambrian Archaeological Projects Ltd. The OA North 2004-2005 survey area comprised c9.5 sqkm, encompassing enclosed and
improved agricultural land, as well as large open tracts of heath and grassed moorland.
In total, the survey identified 155 new sites, but also involved the enhancement of 63 previously identified sites, giving a total of 218 sites overall from within the study area. The new sites included a funerary cairn, a stone row, 26 field boundaries and field-systems, three hut circles, 12 farmsteads and farmhouses, 28 longhouses and deserted rural
settlements, nine quarries, two trackways, five areas of peat cutting and 54 stock management features.
Actions (login required)