Phillips, Tom and Diffey, John and Rees, Gareth and Pickstone, Alexandra (2013) Medieval Remains at Weatheralls Primary School, Soham, Cambridgeshire. [Client Report] (Unpublished)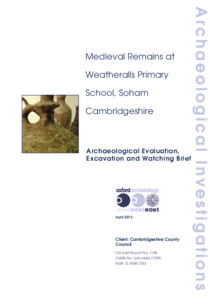 Preview
PDF




Report 1185_LR.pdf


Available under License Creative Commons Attribution Share Alike.
Download (3MB) | Preview
Abstract
Five phases of archaeological work were carried out by Oxford Archaeology East at the Weatheralls Primary School, Soham, Cambridgeshire (TL 5948 7353) between April 2010 and March 2013 in advance of and during a phased reorganisation of the school grounds to enable a school extension, including hard and soft landscaping, supported by enlarged playing fields.
The first phase of work took place from 27th to 30th April 2010 and consisted of an evaluation of seven trenches (Trenches 1-7) totalling 133m in length located in playing fields to the north of the school buildings. Monitoring and recording of ground works to the north of the site were carried out in March 2011 (Trench 8). An excavation in the area of the proposed new building took place between the 1st and 13th August 2012 (Trench 9). Further monitoring of ground works took place between 3rd and 17th December 2012. Followed by further monitoring during construction of a pond in March 2013.
The combined archaeological works found evidence of an early medieval field system possibly associated with a settlement in the immediate vicinity. This was represented by a major ditched boundary in Trenches 2, 3, 9 and 10 which was roughly parallel with both Pratt Street to the west and the 5m contour line to the east, as well as a footpath directly to the east. Boundary features that can be seen on the 1840 Tithe Map were uncovered in Trenches 4 and 5 along with two pits, one of which may have been associated with medieval settlement. Evidence of a north to south aligned field system, in the form of ditches and furrows was uncovered in Trenches 8 and 9 along with a feature that may have been a droveway with an associated post-built structure. A change in land use in the late medieval or post medieval period was evidenced in Trenches 1 and 9 where tree-pits relating to an orchard were uncovered.
The results of these archaeological investigations should be viewed in conjunction with the results of an earlier archaeological evaluation undertaken in 1991, in the western part of the site, which encountered similar remains (Taylor and Waite 1991). The joint results present a more complete picture of a ditched rectilinear field system with settlement evidence represented by the pits and domestic debris deposited into the ditches. The ceramic assemblage from the combined works suggests a date between the 10th – mid 12th centuries for the earliest activity. These remains have the potential to add to the understanding of the medieval development of Soham.
In addition, there was a background scatter of prehistoric flints which may attest to prehistoric activity in the area.
Soil cover across the site was an average of 0.75m. The water table was encountered in trenches 2, 3 and 6 at approximately 6.7m OD. In all the trenches this was approximately 1.2m below modern ground level.
Item Type:
Client Report
Uncontrolled Keywords:
Cambridgeshire, cambridgeshire, Soham, soham, Medieval, medieval, field system, settlement, boundary, boundary ditch, pottery, Medieval pottery, medieval pottery, pot, ceramic, sherd, flint scatter, flint, worked flint, lithic, lithics, lithic implement, 1185, report 1185, Report 1185, OAE report 1185
Subjects:
Geographical Areas > English Counties > Cambridgeshire
Period > UK Periods > Medieval 1066 - 1540 AD
Divisions:
Oxford Archaeology East
Depositing User:

Hamilton

Date Deposited:
06 Jun 2019 10:50
Last Modified:
06 Jun 2019 10:50
URI:
http://eprints.oxfordarchaeology.com/id/eprint/4894
Actions (login required)