Fairbairn, James and Richards, Jo and Woolverton, Jemima (2016) Covington: a Medieval Village History Uncovered. [Client Report] (Unpublished)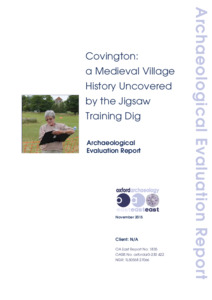 Preview
PDF




COVMAF15_Report_1835_LR.pdf


Available under License Creative Commons Attribution Share Alike.
Download (2MB) | Preview
Abstract
The Jigsaw Cambridgeshire Training Dig at Covington took place from 4 – 18 July 2015, and was a training exercise for volunteers across the county to learn excavation and recording techniques.
There were three main phases of earlier occupation of the field: the 11th – mid/late 13th century when three north to south aligned boundary ditches were in use across the site; the mid 15th – 16th century when ditches/pits to the south-east and north-west of the site were in use, as well as a pond close to the manor site. The final phase of use was the 20th century animal disease burning pit in the south-western part of the site and the demolition of post-medieval buildings marked on the 1764 and 1851 maps.
Two Level 3 workshop training sessions were run during the excavation, as part of the 2015 Jigsaw Training Programme, there were Medieval pottery making and building a Roman-style pottery kiln.
Item Type:
Client Report
Uncontrolled Keywords:
Training Excavation, training excavation, Cambridgeshire, cambridgeshire, Covington, covington, Jigsaw, jigsaw, Medieval, medieval, pond, pit, pits, ditch, ditches, Post-Medieval, post-medieval, Post Medieval, post medieval, Medieval pottery, medieval pottery, animal remains, animal bone, animal bones, bone, bones, coin, jetton, 1835, report 1835, Report 1835, OAE report 1835
Subjects:
Geographical Areas > English Counties > Cambridgeshire
Period > UK Periods > Medieval 1066 - 1540 AD
Period > UK Periods > Modern 1901 - present
Period > UK Periods > Post Medieval 1540 - 1901 AD
Divisions:
Oxford Archaeology East
Depositing User:

Hamilton

Date Deposited:
06 Jun 2019 11:22
Last Modified:
06 Jun 2019 11:22
URI:
http://eprints.oxfordarchaeology.com/id/eprint/4898
Actions (login required)