Webb, Robin and Clarke, Rachel (2016) The West Glasshouse, Gardens Yard, Wimpole Hall, Cambridgeshire. [Client Report] (Unpublished)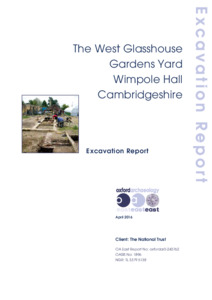 Preview
PDF




WPLGLH15_Report_1896_LR.pdf


Available under License Creative Commons Attribution Share Alike.
Download (2MB) | Preview
Abstract
An archaeological excavation was carried out by the Cambridge Archaeology Field Group (CAFG) in the Gardens Yard to the north of the walled kitchen garden at Wimpole Hall, centred on NGR TL 3379 5138. This work, which was undertaken in advance of the proposed plans for the erection of a new glasshouse by the National Trust, took place over two long weekends: 29th May to 1st June 2015 and 24th to 27th July 2015.
The new glasshouse is proposed to enhance facilities for growing plants for use on the estate and to ultimately facilitate access for visitors within this part of the estate. The area is currently occupied by the East Glasshouse, along with the remaining footings of an adjacent glasshouse (the West Glasshouse) built in the early 20th century. Cambridge Archaeology Field Group was asked by Angus Wainwright, the National Trust Regional Archaeologist, to explore the glasshouse site and to establish whether there were remains of any earlier structures present.
Excavation of eight small trenches across the exposed footings of the glasshouse, and within the adjacent Messenger glasshouse, revealed the remains of an additional two phases of earlier building. The earliest phase was a rectangular structure comprising wall footings and associated surfaces constructed from red brick. These probably relate to a glasshouse or other horticultural building that was built in the late 18th century on previously unoccupied ground. In the mid 19th century this structure was replaced by a narrower, longer building that was again probably a glasshouse and which re-used part of the walls of the earlier phase of building. The final phase, already partly exposed on the surface, was the gault brick foundation of the full-span West Glasshouse built in 1907 and demolished in the 1980s.
A significant assemblage of flowerpots, as well as other finds relating to the construction, use and demolition of the various phases of glasshouse was recovered. Further analysis of this assemblage – and the flowerpots in particular – has the potential to shed light on the day-to-day activities on this part of the estate, as well as contribute to the study of wider horticultural practices in the late 18th and 19th centuries.
Item Type:
Client Report
Uncontrolled Keywords:
Excavation, excavation, archaeological excavation, Cambridgeshire, cambridgeshire, Wimpole, wimpole, Wimpole Hall, wimpole hall, glasshouse, Glasshouse, Glass House glass house, Greenhouse, greenhouse, Green House, greenhouse, Post-medieval, post-medieval, Post Medieval, post medieval, pottery, Pottery, pot, sherd, ceramic, CBM, cbm, Ceramic Building Material, ceramic building material, Tile, tile, glass, window glass, Post-medieval pottery, post-medieval pottery, Post Medieval pottery, post medieval pottery, Modern, modern, 1896, report 1896, Report 1896, OAE report 1896
Subjects:
Geographical Areas > English Counties > Cambridgeshire
Period > UK Periods > Modern 1901 - present
Period > UK Periods > Post Medieval 1540 - 1901 AD
Divisions:
Oxford Archaeology East
Depositing User:

Hamilton

Date Deposited:
10 Jun 2019 12:58
Last Modified:
10 Jun 2019 12:58
URI:
http://eprints.oxfordarchaeology.com/id/eprint/4908
Actions (login required)