Fairbairn, James (2017) Land off Gifford Farm, St Ives, Cambridgeshire. [Client Report] (Unpublished)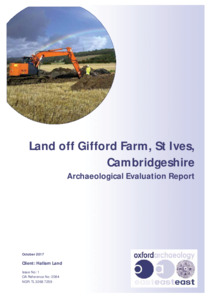 Preview
PDF




Report 2084_LR.pdf


Available under License Creative Commons Attribution Share Alike.
Download (3MB) | Preview
Abstract
Between the 3rd April and 19th May 2017, OA East conducted an archaeological evaluation at Gifford Farm, St Ives. A total of 131 evaluation trenches totaling 6550 linear meters were excavated. The trenching was informed by the results of a geophysical survey and trenches were located to investigate specific geophysical anomalies as well as to test areas where the survey had indicated an absence of features. Archaeological features were recorded in 46 of the trenches, providing evidence of Iron Age, Roman and Saxon settlement and activity. The vast majority of archaeological features were recorded in three relatively discrete areas of the site and corresponded closely to a series of enclosures and other features previously identified by geophysical survey.
In the most northerly of these areas (Area A), excavation confirmed the presence of a series of Iron Age enclosures and associated features, with the pottery recovered suggesting settlement here had its origins in the Early Iron Age, continuing through to the Late Iron Age. In the southern part of the site (Area B) a square enclosure with an internal curvilinear enclosure identified by geophysical survey was investigated and produced pottery suggesting an Early Roman date (1st century AD). The densest area of features was investigated in the southeast of the site (Area C) and related to a large and complex series of enclosures and associated features. The evaluation suggests that settlement in this area began in the Middle Iron Age and saw continuous activity into the Late Iron Age and throughout the Roman period. Alongside enclosures and boundary ditches investigated in this area, features attributed to the Roman phases include probable structures and a possible shrine. A small assemblage of Early and Early/Middle Saxon pottery suggests that occupation may have continued into the 5th and 6th centuries AD.
Very few features were recorded outside of these three main areas, although some outlying boundary/enclosure ditches were identified. Settlement and activity on the site, as represented by the three main areas of features, appears to have been strongly influenced by the underlying geology, with features invariably being located on the lighter and free draining gravels and sands, with a corresponding dearth of evidence from areas with heavier clay based geologies.
Item Type:
Client Report
Uncontrolled Keywords:
Archaeological evaluation, Evaluation, evaluation, Cambridgeshire, cambridgeshire, St Ives, st ives, Iron Age, iron age, Roman, roman, Iron Age pottery, iron age pottery, Roman pottery, roman pottery, pottery, Pottery, pot, ceramic, sherd, animal bone, animal bones, animal remains, bone, bones, coin, coins, Roman coin, roman coin, worked bone, pin, worked bone pin, enclosure, rectilinear enclosure, settlement, Iron Age settlement, iron age settlement, pond, trackway, drove way, ditch, enclosure ditch, ridge and furrow, furrow, pit, pits, rubbish pit, roundhouse, Iron Age roundhouse, iron age roundhouse, drip gully, 2084, report 2084, Report 2084, OAE report 2084
Subjects:
Geographical Areas > English Counties > Cambridgeshire
Period > UK Periods > Early Medieval 410 - 1066 AD
Period > UK Periods > Iron Age 800 BC - 43 AD
Period > UK Periods > Post Medieval 1540 - 1901 AD
Period > UK Periods > Roman 43 - 410 AD
Divisions:
Oxford Archaeology East
Depositing User:

Hamilton

Date Deposited:
10 Jun 2019 14:01
Last Modified:
10 Jun 2019 14:01
URI:
http://eprints.oxfordarchaeology.com/id/eprint/4910
Actions (login required)