Bullock, Vicky (2010) St Silas' C of E Primary School, Clematis Street, Blackburn, Lancashire. Archaeological Desk-Based Assessment. [Client Report] (Unpublished)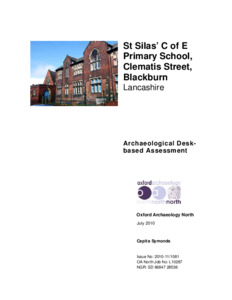 Preview
PDF




L10267_St SilasFullReportRedone090810.pdf


Download (24MB) | Preview
Abstract
Proposals are to be submitted to redevelop St Silas' CE Primary School, Clematis Street, Blackburn, Lancashire (NGR SD 66847 28536, Figure 1). The existing school opened in
1885 and is extant and in use. Capita Symonds commissioned Oxford Archaeology North (OA North) to undertake a desk-based assessment to identify the known archaeological
resource in order to inform the planning process, and consider whether there is a requirement for any further archaeological work.
The desk-based assessment was carried out in July 2010 and comprised a search of both published and unpublished records held by the Lancashire County Historic Environment
Record (HER) in Preston, the Lancashire Record Office in Preston, the Community History Library in Blackburn and the archives and library held at OA North. In addition to this, the site was visited in order to provide a more thorough understanding of the study area, and assess the significance of the built heritage.
The assessment identified a total of eighteen sites of archaeological and historical interest within the study area, which were added to a gazetteer (Section 4) and the locations are plotted on Figure 2. This included four Grade II Listed buildings (Sites 02, 06, 07 and 09), and a further six sites recorded in the HER (Sites 01, 03-05, 08 and 10). In addition, eight sites were added to the gazetteer following consultation of historic maps (Sites 11-
18). The site visit confirmed that there is a single, extant Victorian school building, in the proposed development boundary (Site 08). The building incorporates some ornate
architectural detail within its design, and has seen relatively little alteration to the fabric. It is in good condition and is a significant architectural survival of the period. No further sites were added to the gazetteer as a result of the inspection.
Actions (login required)