Webb, Robin (2018) Soham Eastern Gateway. [Client Report] (Unpublished)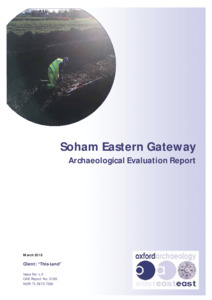 Preview
PDF




Report_2186_v2_LR.pdf


Available under License Creative Commons Attribution Share Alike.
Download (15MB) | Preview
Abstract
Between the 8th of January and the 13th of February 2018, Oxford Archaeology East (OA East) conducted an archaeological evaluation on land on the eastern edge of Soham, Cambridgeshire (centred on TL 5970 7365). This land was enclosed by Paddock Street and East Fen Common to the south-east, Qua Fen Common to the north, Brewhouse Lane to the south-west and the A142 to the north-east. The site lies within an area of high archaeological potential, located on an island in the fens that has been occupied since the Neolithic period. The evaluation consisted of the first phase of archaeological intrusive investigation across six fields. In this phase four fields were examined (Fields 2-5).
The evaluation revealed archaeological remains spanning the medieval and post-medieval periods, with additional isolated prehistoric remains. Artefacts that were recovered included 10 incomplete iron nails; Iron Age, Roman and Saxon pottery amongst a predominantly medieval assemblage of moderately abraded pottery; 18th and 19th century clay pipe fragments; medieval and post-medieval CBM with some Roman material, a small assemblage of 19th to 20th century glass; a small quantity of Mesolithic, earlier and later Neolithic and Early Bronze Age flint; 14kg of animal bone that was dominated by cattle and sheep/goat, but also included amphibian, bird and small mammal bones recovered from environmental samples. The environmental samples showed the presence of harvested crops, weeds from arable land and wetland plants.
Field 2 revealed a series of medieval strips that became gradually enlarged to become the current field. This field also contained a Late Iron Age drainage ditch.
Field 3 again contained a series of medieval ditches related to the strip field system and the later ditches utilised for the gradual process of enlarging the fields in the post-medieval period. Running across between these ditches were a series of smaller drainage ditches that fed water into the larger boundary ditches.
Field 4 again showed the medieval strips with their replacement ditches for the enclosure of the fields. These were again supplemented by smaller drainage ditches. This field also contained pits that were probably part of sand extraction in the area and a pond.
Field 5 was the quietest of the examined fields, containing only elements of the medieval strips, shown to have disappeared from the field by the time of the 1656 Tithe Map.
Item Type:
Client Report
Uncontrolled Keywords:
Evaluation, evaluation, archaeological evaluation, Cambridgeshire, cambridgeshire, Soham, soham, Paddock Street, paddock street, East Fen Common, east fen common, Qua Fen Common, qua fen common, Brewhouse Lane, brewhouse lane, Medieval, medieval, field strip, field strips, field system, agriculture, farming practices, Pottery, pottery, Medieval pottery, medieval pottery, pot, ceramic, sherd, Post-Medieval, post-medieval, Post Medieval, post medieval, Animal Bone, animal bone, animal bones, animal remains, bone, bones, CBM, cbm, Ceramic Building Material, ceramic building material, London Stoneware, london stoneware, Early Medieval, early medieval, Early Medieval pottery, early medieval pottery, Iron Age, iron age, Late Iron Age, late iron age, Iron Age pottery, iron age pottery, Late Iron Age pottery, late iron age pottery, Late Bronze Age, late bronze age, Early Iron Age, early iron age, Late Bronze Age field system, late bronze age field system, Early Iron Age field system, early iron age field system, 2186, report 2186, Report 2186, OAE report 2186
Subjects:
Geographical Areas > English Counties > Cambridgeshire
Period > UK Periods > Iron Age 800 BC - 43 AD > Early Iron Age 800 - 400 BC
Period > UK Periods > Early Medieval 410 - 1066 AD
Period > UK Periods > Iron Age 800 BC - 43 AD
Period > UK Periods > Bronze Age 2500 - 700 BC > Late Bronze Age 1000 - 700 BC
Period > UK Periods > Iron Age 800 BC - 43 AD > Late Iron Age 100 BC - 43 AD
Period > UK Periods > Medieval 1066 - 1540 AD
Period > UK Periods > Post Medieval 1540 - 1901 AD
Divisions:
Oxford Archaeology East
Depositing User:

Hamilton

Date Deposited:
14 Jun 2019 08:04
Last Modified:
14 Jun 2019 08:04
URI:
http://eprints.oxfordarchaeology.com/id/eprint/4920
Actions (login required)