Bishop, Barry and Clarke, Rachel and Haskins, Anthony (2016) A Late Upper Palaeolithic Lithic Assemblage from Hinxton, Cambridgeshire. [Client Report] (Unpublished)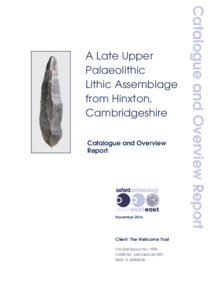 Preview
PDF




Report 1995_HINGEL LUP flint_LR.pdf


Available under License Creative Commons Attribution Share Alike.
Download (2MB) | Preview
Abstract
Excavations undertaken on behalf of the Wellcome Trust during 2014 in the South Field at the Hinxton Genome Centre, South Cambridgeshire revealed further insights into the extensive utilisation of this landscape from the early prehistoric to more recent periods. An unexpected and exceptional find took the form of a shallow pond or pool containing a large and generally undisturbed scatter of Palaeolithic flintwork. Comprising over 3,800 pieces this is one of the largest assemblages found within the country and is considered to be of national and perhaps international importance.
The techno-typological and metrical characteristics of this assemblage are culturally Later Upper Palaeolithic and securely date it to between c.14,800-11,200 cal BP (Barton et al. 2003; Barton 2010). Other characteristics, such as the extremely large size of some of the blades, the predominant striking platform types and the paucity of 'formal' retouched pieces but high incidence of utilized pieces such as 'bruised-blades', would suggest that this belongs to the last of the three cultural grouping recognized for the Later Upper Palaeolithic, the 'long blade' industries that straddle the Late Glacial / Early Post-Glacial boundary.
This report provides a record of the assemblage in the form of detailed catalogues, accompanied by a summary narrative of the results, and is intended to form the basis for applications for additional funding that will allow for the analysis and publication of this exceptional assemblage. The integral and relatively undisturbed nature of the assemblage has further demonstrated that it offers great potential in particular for studies based on technological and metrical analysis, refitting, use-wear, raw material studies including the possibility of heat treatment, experimental and replication work and broader understanding of site use and landscape inhabitation.
Item Type:
Client Report
Uncontrolled Keywords:
Excavation, excavation, archaeological excavation, Cambridgeshire, cambridgeshire, Hinxton, hinxton, worked flint, worked flints, lithics, lithic implement, lithic implements, lithic, Palaeolithic, palaeolithic, Late Upper Palaeolithic, Upper Palaeolithic, late upper palaeolithic, upper palaeolithic, 1995, report 1995, Report 1995, OAE report 1995
Subjects:
Geographical Areas > English Counties > Cambridgeshire
Period > UK Periods > Palaeolithic 500 000 - 10 000 BC
Divisions:
Oxford Archaeology East
Depositing User:

Hamilton

Date Deposited:
14 Jun 2019 14:33
Last Modified:
14 Jun 2019 14:33
URI:
http://eprints.oxfordarchaeology.com/id/eprint/4924
Actions (login required)