Thatcher, Chris (2018) Late Saxon and Medieval Activity at Chapel End, Sawtry, Cambridgeshire: PXA and UPD. [Client Report] (Unpublished)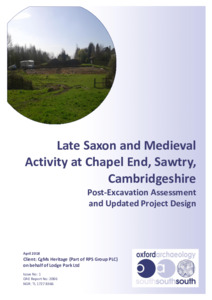 Preview
PDF




OAE_Report 2086_SWTCHE17_LR_.pdf


Available under License Creative Commons Attribution Share Alike.
Download (5MB) | Preview
Abstract
Archaeological excavations were carried out in advance of the construction of residential housing at Land adjacent to Chapel End, Sawtry between March and September 2017. This revealed a sequence of archaeological deposits dating from the Roman to post-medieval periods.
Isolated Roman and Anglo-Saxon features were revealed in the southernmost part of the site (Area 1), with contemporary finds also recovered as residual elements in later features across the site. A number of Late Saxon features were also present comprising pits and a series of ditches that, broadly, lay on north-west to south-east alignments.
The majority of the archaeological remains dated to the early medieval period. The main feature types were enclosure and boundary ditches and a number of pits. These features appeared to have been set out on alignments respecting the route of Chapel End. There was also some evidence for backplots of properties fronting onto Chapel End.
Based upon the finds evidence it would appear that the boundaries on site fell out of use during the 14th century. There was little evidence for later activity, other than a number of post-medieval ponds in the northern part of the site.
Item Type:
Client Report
Uncontrolled Keywords:
Excavation, excavation, archaeological excavation, Sawtry, sawtry, Medieval, medieval, Early Medieval, early medieval, Saxon, saxon, Anglo-Saxon, anglo-saxon, Pottery, pottery, Medieval pottery, medieval pottery, Early Medieval pottery, early medieval pottery, Saxon pottery, saxon pottery, Anglo-Saxon pottery, anglo-saxon pottery, animal remains, animal bone, animal bones, bones, bone, CBM, cbm, Ceramic Building Material, ceramic building material, brick, tile, Post-Medieval, post-medieval, Post Medieval, post, medieval, Post-Medieval pottery, post-medieval pottery, Post Medieval pottery, post medieval pottery, buckle, Stamford ware, stamford ware, Shelly ware, shelly ware, St Neots ware, st neots ware, 2086, report 2086, Report 2086, OAE report 2086, PXA, pxa, Post-Excavation Assessment, Post-excavation Assessment, post-excavation assessment, UPD, upd, Updated Project Design, updated project design
Subjects:
Geographical Areas > English Counties > Cambridgeshire
Period > UK Periods > Early Medieval 410 - 1066 AD
Period > UK Periods > Iron Age 800 BC - 43 AD > Late Iron Age 100 BC - 43 AD
Period > UK Periods > Medieval 1066 - 1540 AD
Period > UK Periods > Modern 1901 - present
Period > UK Periods > Post Medieval 1540 - 1901 AD
Period > UK Periods > Roman 43 - 410 AD
Divisions:
Oxford Archaeology East
Depositing User:

Hamilton

Date Deposited:
18 Jun 2019 10:48
Last Modified:
02 Sep 2021 08:35
URI:
http://eprints.oxfordarchaeology.com/id/eprint/4931
Actions (login required)