Connor, Aileen and Kenney, Scott (1998) A Middle and Late Iron Age Settlement at Foxburrow Plantation, Chippenham. An Archaeological Evaluation. [Client Report] (Unpublished)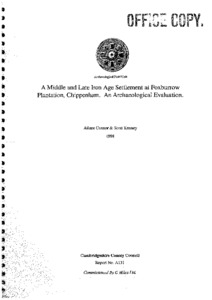 Preview
PDF




CCCAFU_reportA131.pdf


Available under License Creative Commons Attribution Share Alike.
Download (3MB) | Preview
Abstract
In April 1998, the Archaeological Field Unit of Cambridgeshire County Council conducted a limited archaeological evaluation on land adjacent to Foxburrow Plantation, Chippenham, Cambridgeshire (TL65806760). The work was commissioned by G Miles & Son Ltd, in response to a County Archaeology Office Brief requiring further information about the site of a proposed agricultural reservoir.
The evaluation undertook to determine the presence of archaeological remains their distribution and broad date within the limits of the proposed reservoir. Features were recorded in plan, but only rarely excavated due to the limited nature of the excavation.
Twenty trenches were machine excavated within the area of the proposed reservoir. Archaeological features were observed to survive in all the trenches. Pottery was recovered from sixteen of the trenches and was dated as Middle and Late Iron Age. Animal bone was present in all except one trench and small quantities of worked flint, burnt daub and metalwork were recovered from several of the trenches.
The features present included roundhouse gullies, pits and rectilinear ditch systems which strongly suggest the presence of settlement. Ditches and gullies were on two alignments suggesting at least two phases of occupation and supporting the evidence from the finds.
Item Type:
Client Report
Uncontrolled Keywords:
archaeological evaluation, Evaluation, evaluation, Cambridgeshire, cambridgeshire, Chippenham, chippenham, Foxburrow Plantation, foxburrow plantation, Middle Iron Age, middle iron age, Late Iron Age, late iron age, pottery, animal bone, worked flint, burnt daub, metalwork, roundhouse, roundhouse gullies, pits, rectilinear ditch system, alignment, settlement, A131, a131, Report A131, report A131, report a131, report A131, CCCAFU report A131
Subjects:
Geographical Areas > English Counties > Cambridgeshire
Period > UK Periods > Iron Age 800 BC - 43 AD
Period > UK Periods > Iron Age 800 BC - 43 AD > Late Iron Age 100 BC - 43 AD
Period > UK Periods > Iron Age 800 BC - 43 AD > Middle Iron Age 400 - 100 BC
Depositing User:

Archives

Date Deposited:
06 Aug 2019 07:37
Last Modified:
06 Aug 2019 07:37
URI:
http://eprints.oxfordarchaeology.com/id/eprint/4933
Actions (login required)