Blackbourn, Kathryn (2017) Middle to Late Bronze Age funerary activity and Late Bronze Age occupation at Field End, Witchford. [Client Report] (Unpublished)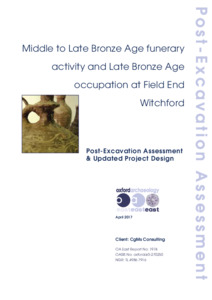 Preview
PDF




Report_1974_LR.pdf


Available under License Creative Commons Attribution Share Alike.
Download (5MB) | Preview
Abstract
Between 25th July and 30th August 2016 Oxford Archaeology East (OAE) undertook an excavation at land north of Field End, Witchford, Cambridgeshire (TL 4986 7916). The excavation covered an area of 2.7ha and revealed a large mixed inhumation and cremation cemetery, a smaller group of cremation burials, as well as pits, ditches, wells, post-holes and a shallow channel. These features dated to a number of phases; Early Bronze Age, Middle Bronze Age, Late Bronze Age, Late Iron Age/Early Roman and medieval to post-medieval.
Three small features (two pits and a post-hole) dated to Early Bronze Age were found to contain an assemblage of decorated beaker sherds and other plain body sherds in a fine grog-tempered fabric.
Two cemeteries were identified on the site, the largest of which dates to the Middle Bronze Age. Cemetery 1 contained 35 cremation burials and five graves containing a total of seven skeletons. The cremation burial pits contained varying amounts of burnt bone, much of which was poorly fired and survived as large fragments. Although only one of the cremations was urned, very small fragments of Late Bronze Age pottery (often 1g) were recovered from a number of the cremations. The inhumation burials lay amongst the cremations. These burials varied in terms of alignment, preservation, body position, age and sex. None of the graves contained any finds. Radiocarbon dates were obtained from one of the skeletons (304) and three of the cremations (302, 334, 482), with dates ranging between 1426-1089 cal. BC (95% probability).
Cemetery 2 was on the south-eastern limits of the site and comprised four cremations, one of which (585) was radiocarbon dated to the Late Bronze Age (996-832 cal. BC; 95% probability). At this stage Cemetery 2 has been ascribed a Late Bronze Age date.
The majority of other features uncovered on the site related to unenclosed Late Bronze Age settlement, with pits and post-holes being the most common features, although four wells were also present. A number of features representing former structures were observed, including two four-post structures and a six-post structure. Pits were uncovered across the entire site with four obvious pit groups being identified. The four small wells were located across the site, one of which contained two worked bone awls. A significant find was a small assemblage of refractory debris in the form of sword mould fragments, found in two separate features within different parts of the site.
A wide and shallow channel extended across the southern part of the site in a roughly east to west direction. There appeared to be a direct association between the channel and the archaeology, particularly in the Bronze Age, despite the fact that it was difficult to establish the date at which the channel may have been open. The majority of the archaeological features were on the northern side of the channel where the land began to rise, with a concentration of Late Bronze Age features and Cemetery 2 positioned directly to the north. A later field system, parts of which truncated the in-filled channel, was observed in the south-west corner of the site and was thought to be of Late Iron Age or Early Roman date – a single sherd of Roman mortarium was recovered from ditch 343.
Item Type:
Client Report
Uncontrolled Keywords:
Excavation, excavation, archaeological excavation, Cambridgeshire, cambridgeshire, Witchford, witchford, cremation, cremation cemetery, cemetery, urned cremation, unurned cremation, cremated bone, cremated human bone, cremated human remains, inhumation, inhumations, burial, burials, human remains, HSR, hsr, Human Skeletal Remains, human skeletal remains, Human Remains, Bronze Age, Late Bronze Age, Middle Bronze Age, bronze age, late bronze age, middle bronze age, Bronze Age pottery, Late Bronze Age pottery, Middle Bronze Age pottery, bronze age pottery, late bronze age pottery, middle bronze age pottery, Pottery, pottery, pot, ceramic, sherd, Beaker, beaker, Iron Age, iron age, field system, well, wells, structure, post structure, building, sword mould, sword mould fragment, animal bones, animal bone, animal remains, bones, bone, 1974, report 1974, Report 1974, OAE report 1974, PXA, pxa, UPD, upd, PXA and UPD, pxa and upd, Post-excavation Assessment, post-excavation assessment, Updated Project Design, updated project design, Post-excavation Assessment and Updated Project Design, post-excavation assessment and updated project design
Subjects:
Geographical Areas > English Counties > Cambridgeshire
Period > UK Periods > Bronze Age 2500 - 700 BC
Period > UK Periods > Iron Age 800 BC - 43 AD
Period > UK Periods > Bronze Age 2500 - 700 BC > Late Bronze Age 1000 - 700 BC
Period > UK Periods > Iron Age 800 BC - 43 AD > Late Iron Age 100 BC - 43 AD
Period > UK Periods > Bronze Age 2500 - 700 BC > Middle Bronze Age 1600 - 1,000 BC
Period > UK Periods > Roman 43 - 410 AD
Divisions:
Oxford Archaeology East
Depositing User:

Hamilton

Date Deposited:
18 Jun 2019 13:21
Last Modified:
18 Jun 2019 13:21
URI:
http://eprints.oxfordarchaeology.com/id/eprint/4934
Actions (login required)