Abrehart, Emily and Moan, Patrick (2017) Roman and post-medieval remains at the Abcam Development, Addenbrooke's Hospital, Cambridge. [Client Report] (Unpublished)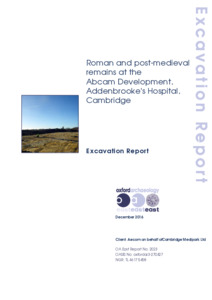 Preview
PDF




CAMATF16_Report2023_LR.pdf


Available under License Creative Commons Attribution Share Alike.
Download (2MB) | Preview
Abstract
Between 14th November and 2nd December 2016, Oxford Archaeology East (OAE) carried out an excavation at the Abcam development lands, south of Dame Mary Archer Way, Addenbrooke's Hospital, Cambridge (TL 4617 5458). The work was undertaken prior to the construction of a new Biotech and Biomedical research and development laboratory, along with associated infrastructure.
A total of 0.923ha of the development area was excavated, uncovering the continuation of field systems identified in excavations to the north dating to the Early Roman and post-medieval period. A feature of interest identified on site was that of an Early Roman small sub-rectangular enclosure, similar in form to features excavated across the Addenbrookes landscape, though slightly larger. The function of these enclosures is unknown, but possible interpretations include: seasonal shelter for shepherds or cowherds; enclosures for hayricks; or even features associated with mortuary activity.
A total of three sherds of pottery were recovered during excavation, none of which were closely identifiable. A small assemblage of animal bone was also recovered. Environmental preservation was found to be very poor, with no ecofacts being recovered.
Item Type:
Client Report
Uncontrolled Keywords:
Cambridgeshire, cambridgeshire, Cambridge, cambridge, Trumpington, trumpington, Addenbrookes, addenbrookes, Excavation, excavation, archaeological excavation, hayrick, Roman, roman, field system, agriculture, farming, Post-Medieval, post-medieval, Post Medieval, post medieval, 2023, report 2023, Report 2023, OAE report 2023
Subjects:
Geographical Areas > English Counties > Cambridgeshire
Period > UK Periods > Post Medieval 1540 - 1901 AD
Period > UK Periods > Roman 43 - 410 AD
Divisions:
Oxford Archaeology East
Depositing User:

Hamilton

Date Deposited:
18 Jun 2019 13:39
Last Modified:
21 Oct 2020 12:30
URI:
http://eprints.oxfordarchaeology.com/id/eprint/4936
Actions (login required)