Ladd, Stuart (2018) Land East of New Road, Melbourn, Cambridgeshire: PXA and UPD. [Client Report] (Unpublished)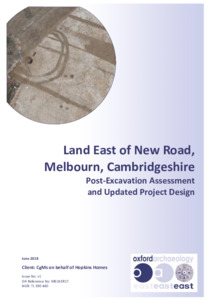 Preview
PDF




MELNER17_ECB5153_PXA_Report_2189_LR.pdf


Available under License Creative Commons Attribution Share Alike.
Download (9MB) | Preview
Abstract
Between August and December 2017, a team from Oxford Archaeology East undertook a 5.4ha archaeological excavation East of New Road, Melbourn, Cambridgeshire (TL 390 440). This followed evaluation work in August 2014.
Naturally formed periglacial hollows were found across the site, with mixed colluvial and incipient soil fills containing Mesolithic struck flints and Early Neolithic flint and pottery, as well as animal bone and, in one case, disarticulated human skeletal remains.
Later Neolithic activity was confined to three possible Early-Middle Neolithic pits and 16 Late Neolithic pits associated with Grooved Ware pottery. They were concentrated in, but not exclusive to, the south-west of the site. As well as pottery, struck and burnt flint, animal bone and charred nut shells, one of these contained both aurochs and domesticated cattle bones, another a selection of red deer, roe deer and elk antler (the latter previously considered to be extinct in the region at this time). Freshwater shell, rare for the period, particularly on inland sites was also found in two pits. The pits have been radiocarbon dated to broadly c.2900-2500calBC, although the elk antler itself, possibly curated, remains to be dated.
A single Early Bronze Age un-urned cremation burial and a slightly later inhumation burial, were also located in the south-west of the site, dated to 2141-1945 cal BC (95.4%) and 1922-1742 cal BC (94.3%) respectively. The latter was surrounded by a double ring-ditch and probably capped by a barrow. A second, undated probable barrow lay in the north of the site.
A multi-phased Middle Bronze Age settlement and enclosure system dominated the eastern part of the site, comprising lines of postholes (over 500 individual posthole in total) forming enclosures and paths, along with a ditched rectilinear enclosure. Three wells were dug across the east of the site, taking advantage of the lowest contours. One of these contained a Middle Bronze Age pottery assemblage. There were up to 10 post-built roundhouse-type structures, as well as several other structural forms. Environmental preservation from wells was moderate, including pollen, but poor from other features.
Possible Roman (or medieval) road-side structural remains were present in the form of beam slots, on the line of what would become Ashwell Street in the post-medieval period.
A post-Roman enclosure ditch with causeway, lying largely beyond the north of the site's limits, has been radiocarbon dated to the 7th-8th centuries AD (Early/Middle Saxon period). This was evidently modified, part-backfilled and cut through by a well. None of these later features producing contemporary finds.
Multiple phases of post-medieval (and earlier) ditches marking Ashwell Street were also present, itself forming a hollow way, as well as later post-medieval tracks. These were filled in by the time of enclosure in 1840 and the construction of New Road.
Item Type:
Client Report
Uncontrolled Keywords:
Cambridgeshire, cambridgeshire, Melbourn, melbourn, PXA, pxa, UPD, upd, Post-excavation Assessment, post-excavation assessment, Updated Project Design, updated project design, Mesolithic, mesolithic, Neolithic, neolithic, Early Neolithic, early neolithic, Mesolithic flint, mesolithic flint, Neolithic flint, neolithic flint, Early Neolithic flint, early neolithic flint, worked flint, struck flint, lithic, lithics, lithic implement, pottery, Pottery, pot, ceramic, sherd, Grooved Ware pottery, Grooved Ware, grooved ware, Middle Neolithic, middle neolithic, Late Neolithic, late neolithic, Middle Neolithic pottery, middle neolithic pottery, Late Neolithic pottery, late neolithic pottery, animal remains, animal bone, animal bones, bones, bone, antler, deer antler, elk antler, radiocarbon dates, C14 dates, c14 dates, Bronze Age, bronze age, Early Bronze Age, early bronze age, cremation, unurned, unurned cremation, cremated bone, cremated remains, human remains, HSR, hsr, human skeletal remains, Human Skeletal Remains, inhumation, burial, barrow, double ring-ditch, double ring ditch, Middle Bronze Age, middle bronze age, settlement, Middle Bronze Age settlement, middle bronze age settlement, Middle Bronze Age pottery, middle bronze age pottery, Bronze Age pottery, bronze age pottery, enclosure system, rectilinear enclosure, rectilinear enclosure system, field system, agriculture, post hole, post holes, ditch, ditches, well, wells, structure, structures, beam slots, beam slot, Early Medieval, early medieval, enclosure ditch, causeway, hollow way, Post-Medieval, post-medieval, post medieval, Post Medieval, 2189, report 2189, Report 2189, OAE report 2189
Subjects:
Geographical Areas > English Counties > Cambridgeshire
Period > UK Periods > Bronze Age 2500 - 700 BC
Period > UK Periods > Bronze Age 2500 - 700 BC > Early Bronze Age 2500 - 1500 BC
Period > UK Periods > Early Medieval 410 - 1066 AD
Period > UK Periods > Neolithic 4000 - 2200 BC > Early Neolithic 4000 - 3000 BC
Period > UK Periods > Mesolithic 10,000 - 4,000 BC > Late Mesolithic 7000 - 4000 BC
Period > UK Periods > Neolithic 4000 - 2200 BC > Late Neolithic 2700 - 2200 BC
Period > UK Periods > Mesolithic 10,000 - 4,000 BC
Period > UK Periods > Bronze Age 2500 - 700 BC > Middle Bronze Age 1600 - 1,000 BC
Period > UK Periods > Neolithic 4000 - 2200 BC > Middle Neolithic 3500 - 2700 BC
Period > UK Periods > Neolithic 4000 - 2200 BC
Period > UK Periods > Post Medieval 1540 - 1901 AD
Divisions:
Oxford Archaeology East
Depositing User:

Hamilton

Date Deposited:
19 Jun 2019 08:49
Last Modified:
19 Jun 2019 08:49
URI:
http://eprints.oxfordarchaeology.com/id/eprint/4940
Actions (login required)