Hatton, A. (1998) St. Andrew's Church, Soham: An Archaeological Desktop Study. [Client Report] (Unpublished)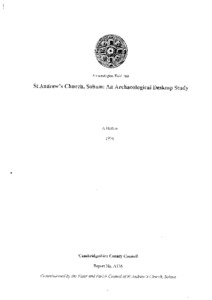 Preview
PDF




CCCAFU_reportA136.pdf


Available under License Creative Commons Attribution Share Alike.
Download (1MB) | Preview
Abstract
This desk top study aims to determine the archaeological potential of an area of land at St Andrew's Church, Soham, in advance of the proposed construction of offices, meeting rooms, kitchen and WC's. The study area lies immediately to the south of the Church, within the confines of the present graveyard (TL 5930 7317) and covers an area of 166 square metres.
Although the Soham area is rich in finds of many periods, the main interest around St Andrew;s church is the location of an Anglo-Saxon cemetery which is thought to lie within or near the churchyard, and a 7th century minster and monastery, reputedly founded at Soham by St Felix. Although plausible finds of Early Saxon grave goods have been made in the churchyard, the exact location of this cemetery is unknown. Similarly, whilst tradition would place the location of Felix's early foundation near to or beneath the present 12th century church, its exact location remains unknown. A single sherd of late Saxon pottery recovered form a grave fill in the churchyard may be evidence of later occupation of the site.
The area around St Andrew's church has great archaeological potential. Although the digging of graves over the years may have destroyed or disturbed earlier remains, archaeological evidence relating to the Saxon cemetery or the early monastery may still be preserved within the churchyard. Any development here could have an impact on important archaeological remains, and should be preceded by archaeological evaluation, in order to determine the extent, character, date and state of preservation remains within the specific development area.
Item Type:
Client Report
Uncontrolled Keywords:
archaeological desktop study, DBA, dba, Desk-based Assessment, Desk-Based Assessment, desk-based assessment, Cambridgeshire, cambridgeshire, Soham, soham, St Andrew's, st andrew's, Anglo-Saxon, anglo-saxon, Saxon, saxon, Early Medieval, early medieval, Medieval, medieval, cemetery, churchyard, monastery, St Felix, st felix, pottery, a136, A136, report a136, Report a136, report A136, Report A136, CCCAFU report A136
Subjects:
Geographical Areas > English Counties > Cambridgeshire
Period > UK Periods > Early Medieval 410 - 1066 AD
Depositing User:

Archives

Date Deposited:
04 Jul 2019 08:06
Last Modified:
04 Jul 2019 08:06
URI:
http://eprints.oxfordarchaeology.com/id/eprint/4942
Actions (login required)