Kenney, S. (1998) British Sugar Factory, Oundle Road, Peterborough. An Archaeological Evaluation. [Client Report] (Unpublished)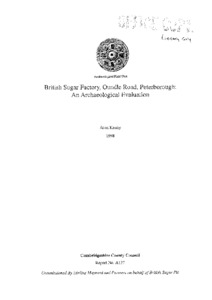 Preview
PDF




CCCAFU_reportA137.pdf


Available under License Creative Commons Attribution Share Alike.
Download (3MB) | Preview
Abstract
Between the 8th and 19th June 1998, the Archaeological Field Unit of Cambridgeshire County Council (AFU) carried out an archaeological evaluation of land at the British Sugar factory, Oundle Road, Peterborough (TL180/977). The work was commissioned by Sterling Maynard and Partners Ltd, on behalf of British Sugar Plc and in advance of proposed residential development.
Despite the wealth of SMR references in the surrounding area and on the site itself, archaeology was found in only two of the trenches and test pits excavated. All of the features excavated produced little in the way of finds, the only datable piece being a single sherd of medieval pottery from Trench 12. The lack of finds overall suggests that this might be intrusive. The featured found in this evaluation are not typical of a particular period, and at present time they cannot be securely dated.
The evaluation has indicated that few archaeological remains survive in the areas that have been extensively developed over the last sixty years, however there is the potential for greater survival beneath roads on the site. These may not have been moved, and thus would protect any archaeology sealed beneath.
Item Type:
Client Report
Uncontrolled Keywords:
archaeological evaluation, Evaluation, evaluation, Cambridgeshire, cambridgeshire, Peterborough, peterborough, Oundle Road, oundle road, Woodston, woodston, Botolph Bridge, botolph bridge, Medieval, medieval, pottery, Medieval pottery, medieval pottery, British Sugar, british sugar, a137, A137, report a137, report A137, Report a137, Report A137, CCCAFU report A137
Subjects:
Geographical Areas > English Counties > Cambridgeshire
Period > UK Periods > Medieval 1066 - 1540 AD
Depositing User:

Archives

Date Deposited:
04 Jul 2019 08:02
Last Modified:
04 Jul 2019 08:06
URI:
http://eprints.oxfordarchaeology.com/id/eprint/4943
Actions (login required)