Kemp, S. N. (1998) Archaeological desk-based assessment for March Library (TL4159/9668). [Client Report] (Unpublished)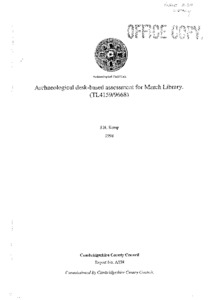 Preview
PDF




CCCAFU_reportA138.pdf


Available under License Creative Commons Attribution Share Alike.
Download (3MB) | Preview
Abstract
The archaeological desk-based assessment for the proposed March Library was undertaken by the the Archaeological Field Unit for Cambridgeshire County Council. This study of the archaeological and historical records for March has highlighted the development area as a site of archaeological potential. The site is expected to contain early prehistoric sites with the potential for palaeo-landsurfaces, artefacts and environmental remains. The site could also contain important Medieval remains associated wit the bridge and port side activities.
Given our existing knowledge of the settlement patterns of the Marc Island, Iron Age and Roman remains will probably be not encountered, although Iron Age remains from Field Baulk Farm and Roman remains from within the town indicate that activity of this date was far more extensive than originally suspected. Much of this former knowledge is based on research strategies restricted to areas outside of the townscape which has placed a bias on presumed settlement patterns.
The report suggests that any future archaeological response should be targeted at areas of high impact and areas of specific archaeological potential i.e. the medieval waterfront. Due to the low visibility of prehistoric remains and the commonly sparse nature of many early sites it is recommended that archaeological inspection and deposit mapping of the machine cut service trenches is also undertaken.
Item Type:
Client Report
Uncontrolled Keywords:
archaeological desk based assessment, DBA, dba, desk-based assessment, Desk-based Assessment, Desk-Based Assessment, Cambridgeshire, cambridgeshire, March, march, March island, march island, ,Medieval, medieval, waterfront, deposit mapping, peat, fen, Palaeolithic land surfaces, palaeolithic land surfaces, Paleolithic, palaeolithic, Mesolithic land surfaces, mesolithic land surfaces, Mesolithic, mesolithic, a138, A138, report a138, report A138, Report a138, Report A138, CCCAFU report A138
Subjects:
Geographical Areas > English Counties > Cambridgeshire
Period > UK Periods > Medieval 1066 - 1540 AD
Period > UK Periods > Mesolithic 10,000 - 4,000 BC
Period > UK Periods > Palaeolithic 500 000 - 10 000 BC
Depositing User:

Archives

Date Deposited:
27 Jun 2019 20:21
Last Modified:
27 Jun 2019 20:21
URI:
http://eprints.oxfordarchaeology.com/id/eprint/4944
Actions (login required)