Roberts, Judith (1998) Land adjacent to Clayton School, Orton Malborne, Peterborough. [Client Report] (Unpublished)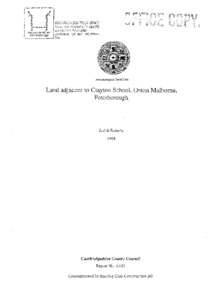 Preview
PDF




CCCAFU_reportA142.pdf


Available under License Creative Commons Attribution Share Alike.
Download (1MB) | Preview
Abstract
In December 1998 the Cambridgeshire County Council Archaeological Field Unit conducted and archaeological evaluation of land adjacent to Clayton School, Orton Malborne, Peterborough (centred on TL1660 9580). The work commissioned by Hunting Gate Construction plc in response to a brief issued by Peterborough City Council Archaeological Service in advance of the development of the site as a medical centre.
The evaluation was designed to examine the site for archaeological remains which may have been sealed beneath medieval ridge and furrow (visible as cropmarks in aerial photographs taken between 1945 and 1976). A brief assessment of documentary and cartographic sources indicated that the land had remained in agricultural use since the medieval period.
Trenches were located to sample the area that will be affected by the foundations of the proposed building and to sample the remainder of the field for archaeological remains.
All trenches appeared to be devoid archaeological features although two possible features were excavated. No dating evidence was recovered from these features and the trench was widened in this area but no further features were exposed. Natural variations in the gravels occurred and pipe trenches were noted in two trenches. There was also evidence for modern disturbance (topsoil removal or quarrying) in the south western part of the site.
Item Type:
Client Report
Uncontrolled Keywords:
archaeological excavation, archaeological evaluation, Cambridgeshire, cambridgeshire, Peterborough, peterborough, Orton Malborne, orton malborne, Clayton School, clayton school, Medieval, medieval, ridge and furrow, a142, A142, report a142, report A142 Report a142, Report A142, CCCAFU report A142
Subjects:
Geographical Areas > English Counties > Cambridgeshire
Period > UK Periods > Medieval 1066 - 1540 AD
Depositing User:

Archives

Date Deposited:
21 Jun 2019 11:08
Last Modified:
21 Jun 2019 11:10
URI:
http://eprints.oxfordarchaeology.com/id/eprint/4947
Actions (login required)