Bates, Andrew (2010) Chester Cathedral Quarter, Chester, Cheshire West and Chester. Evaluation Report. Project Report. Oxford Archaeology North. (Unpublished)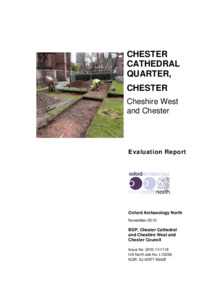 Preview
PDF




Chester Cathedral Quarter Evaluation Report.pdf


Download (3MB) | Preview
Abstract
In April 2010, Oxford Archaeology North (OA North) was commissioned by Cheshire West and Chester Council on behalf of the partnership of Cheshire West and Chester Council, Chester Renaissance, Chester Cathedral and the North West
Development Agency, to conduct a programme of archaeological evaluation to the south and west of Chester Cathedral (centred on SJ 4057 6642), as a prerequisite to the proposed development of these areas. This area lies within Chester's Area of Archaeological Importance (AAI), and an earlier OA North archaeological desk-based assessment suggested that significant Roman, medieval and post-medieval belowground
remains might be found across this area, forming part of the Roman fortress and a medieval and post-medieval cemetery.
In order to investigate the site, eight evaluation trenches were excavated (Trenches 2a, 2b, 2c, 3, 4a, 4b, 4c and 4d), which were distributed to the south-east and south-west
of the cathedral. In addition, a second phase of archaeological evaluation entailed the excavation of seven test pits (Test Pits 4, 6, 7, 10, and 11; Trenches 5a and 5b), as part of a programme of geotechnical investigation. These test pits were located to the south-east and south-west of the cathedral, whilst two test pits were also excavated to the west of the cathedral, in Abbey Square.
The earliest identified remains were located in Trenches 2a and 2d, and possibly Trench 3, and seemingly represented the remains of substantial stone-walled buildings that may have been associated with the Roman Legionary fortress. Significantly, all of the trenches and test pits, apart from Trench 5a, also contained disarticulated human remains, associated with a burial horizon, which probably formed part of an extensive post-medieval cemetery. Other concomitant remains included articulated burials (Trenches 2a, 2b, 2d, and 3) and charnel pits (Trench 3). In addition, one possible medieval burial was identified (Trench 2d), contained within a stone cist, though it is anticipated that further medieval inhumations may be present across the study area.
Actions (login required)