Schofield, Peter (2010) Skipwith Common North Yorkshire Phase 3. Airfield Survey and Archaeological Landscape Survey. Project Report. Oxford Archaeology North. (Unpublished)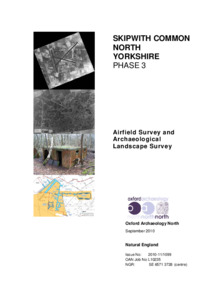 Preview
PDF




L10235_SkipwithPhase3FullReport.pdf


Download (23MB) | Preview
Abstract
Oxford Archaeology North (OA North) was invited by Natural England to undertake a programme of further archaeological landscape survey of elements of Skipwith Common (NGR SE 6571 3728 (approximate centre)), on behalf of Escrick Park Estate and Natural England. This was intended to inform appropriate conservation management of the common. This is the third phase of recording of Skipwith Common and has been undertaken in conjunction with the Friends of Skipwith Common. The first phase of work examined the western part of Skipwith Common, including part of Riccall Airfield (OA North 2008). The second phase of survey examined the Northern Common and the northern part of the main
Skipwith Common (OA North 2009). It also resulted in the completion of a topographic survey of a multiple boundary bank system that extends north/south across the common. The
current survey therefore follows on from this work, and covered both a large area on the eastern end of Skipwith Common and a small additional area within the airfield on Riccall Common that had not previously been covered. The overall area covered in the 2010 survey totalled 1.59sqkm.
The project comprised a documentary study, an archaeological study of the airfield, a landscape survey of the remaining part of Skipwith Common and a detailed survey of a
multiple boundary bank system. The documentary study entailed an investigation of the following sources: the North Yorkshire Historic Environment Record (HER); the National Monuments Record (NMR); the East Riding Record Office in Beverley and the OA North Library. The landscape survey entailed a rapid surface investigation to identify the existence of, but not record in detail, the surface archaeological monuments within the study area,
which were then located using a differential GPS system. This was followed by a detailed survey of the east/west multiple bank boundary system. The field survey was undertaken partly by OA North staff, but much of it was carried out by members of the Friends of Skipwith Common, with the assistance of members of OA North. The investigation of the airfield entailed a documentary survey of the whole airfield complex, using Second World
War records and aerial photography. This was followed by a ground survey of those parts of the airfield that are within the extent of Skipwith Common.
Actions (login required)