Zant, John (2010) The Southern Lanes, Carlisle, Publication of Existing Unpublished Fascicules: Fascicules 3. Project Report. Oxford Archaeology North. (Unpublished)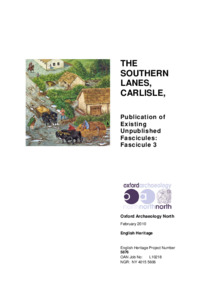 Preview
PDF




Complete Fasicule 3.pdf


Download (9MB) | Preview
Abstract
During the late 1970s and early 1980s, Carlisle Archaeological Unit (CAU) carried out a programme of archaeological excavation prior to the redevelopment of the
Lanes, a densely built-up area situated within the north-east angle of Carlisle's medieval city defences (NY 4015 5606). The work confirmed that deeply stratified
archaeological deposits relating to the Roman town and the medieval and postmedieval city survived over large parts of the site. For post-excavation purposes, the project was divided into two areas: the north and south Lanes.
Following a period of several years in which the project remained largely static, English Heritage provided funding in the mid-1990s for CAU to undertake a programme of analysis leading to publication. For the south Lanes, it was envisaged that three fascicules, presenting the detailed data for the stratigraphic sequence and environmental remains (Fascicule 1), the artefacts (Fascicule 2), and the pottery (Fascicule 3), would accompany a synthetic monograph. A similar publication strategy was also planned for the northern Lanes.
The south Lanes monograph was published in 2000, by which time CAU had become Carlisle Archaeology Limited (CAL), but the accompanying fascicules were never published, nor were the monograph and fascicules for the north Lanes, and CAL
ceased trading in 2001. However, manuscript copies of all three of the south Lanes fascicules were available in the former CAL archive in Carlisle.
Actions (login required)