Gill, Jonathan Former Gasworks at Wharf Road Chelmsford. [Client Report] (Unpublished)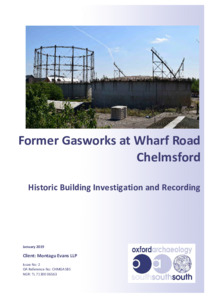 Preview
PDF




CHMGAS18.pdf


Download (15MB) | Preview
Abstract
Oxford Archaeology was commissioned by Montagu Evans LLP on behalf of National
Grid to create an Historic Building Record of the former gasworks at Wharf Road,
Chelmsford, Essex. The work focused on the two surviving gasholders: a frame guided
holder constructed between 1913 and 1919 and a spiral-guided holder constructed in
the 1940s. These holders were located on an area of 20th-century expansion to the
gasworks which was originally established in 1819 and was one of the earliest inland
gasworks in the country. The works was located close to one end of the Chelmer &
Blackwater Navigation, a waterway which had been constructed in the 1790s and
which allowed the supply of cheap coal shipped along the east coast from the northeast
coalfield.
In common with other gasworks across the country the site steadily expanded during
the later 19th and early 20th centuries with more facilities and ever larger gasholders
but much of the works was made redundant in the later 20th century after the decision
to phase out producing coal gas in favour of natural gas. Two holders survived into the
20th century but these also became redundant and are being demolished as part of
the redevelopment of the site.
An archive record has been created prior to (and during) the dismantling of these
holders as part of a national programme of recording these distinctive structures
which have formed familiar landmarks in towns and cities throughout much of the
19th and 20th centuries. The work has provided for posterity an archive record of these
distinctive structures and it will allow comparison with other sites.
The design of the older frame-guided holder (No.114) would have been a relatively
conservative form for this period (c.1913-19), at a time when spiral guided holders
had been introduced, although it was still a common type. Its standards were Type
32 (as defined by Malcolm Tucker) which were generally used between c.1880 and
1930 while the horizontal bracing was Type M (generally found between c.1890 and
the 1930s).
Actions (login required)