Gorniak, Mariusz Land East of Carterton Archaeological Trial Trench Evaluation Report. [Client Report] (Unpublished)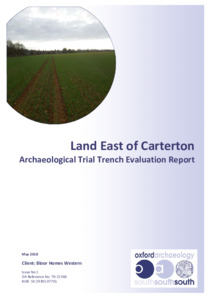 Preview
PDF




CACE18_V1.pdf


Download (4MB) | Preview
Abstract
Oxford Archaeology (OA) was commissioned by Bloor Homes Western to
undertake a trial trench evaluation at the site of a proposed mixed residential
and educational development.
The site is located on the north‐eastern side of Carterton, and to the north
and west of Brize Norton. The site contained no previously recorded
archaeological assets, but previously unrecorded sites including the line of a
possible Roman Road, and a pre‐historic ring ditch were identified by desk
based assessment. A geophysical survey of the site was undertaken in 2013
and confirmed the presence of the ring ditch and several linear features. The
postulated Roman road was not identified by the geophysical survey.
The area of proposed development consists of several interconnected arable
fields divided by hedgerows and three further outlying areas identified as
future locations for balancing ponds. Areas to the north, west and south of
the site, including the potential location of a Roman road are being preserved
as areas of country park or playing fields, and as such were not subject to
evaluation.
The ring‐ditch in the southern part of the was uncovered and sample
excavated. It appeared to represent the remains of a round barrow with the
surviving ditch containing pottery sherds provisionally dated to the middle
Bronze Age and with a central cremation burial.
Thirteen trenches targeted the series of linear anomalies recorded by the
geophysical survey, and confirmed their presence in the ground. The ditches
were sample excavated and characterized as field boundary ditches, but no
dating evidence was recovered, and on the basis of their alignment these are
thought to be of medieval or post‐medieval date.
Nine other undated ditches were uncovered and excavated within the main
site and in one of the outlying areas. Sixteen discrete features were sample
excavated, with the majority interpreted as tree‐throw holes.
Actions (login required)