Fletcher, Taleyna (2018) Archaeological Excavation at The Bowd Engineering Works Site, East Street, St Ives, Cambridgeshire. [Client Report] (Unpublished)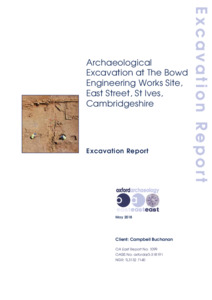 Preview
PDF




Report 1099_LR.pdf


Available under License Creative Commons Attribution Share Alike.
Download (3MB) | Preview
Abstract
An archaeological evaluation at the Bowd Engineering Works site, East Street, St Ives in August 2007 revealed extensive archaeological deposits from the medieval and post-medieval period. As a result of time constraints, a full archaeological excavation was conducted soon after, beginning in September, that continued until early November 2007. This report addresses the findings of both investigations.
The site was located within the medieval core of St Ives, at TL 3132 7140 and at c.6.5m OD. The investigations revealed a well preserved site with up to a metre of stratigraphy spanning over 700 years of activity.
Three main phases of activity were identified by the evaluation and excavation and these are characterised by quarrying and the digging of rubbish pits. The location of the site in close proximity of the Medieval street fair may be of fundamental importance in understanding why such activity was occurring in this location.
A sequence of rubbish pits dating from the 12th-14th centuries represent the earliest activity on the site, these contained deposits of horn cores and a medieval annular brooch. There follows a cessation in activity on the site, perhaps relating to the decline in population and abandonment of the fair in 1511 influenced by the Black Death and Hundred Years War. Activity resumes again during the 16th -17th centuries in the form of pit-digging, this time larger pits, perhaps for quarrying. A number of postholes dating from this period may represent the first evidence of a structure on the site.
The absence of evidence of any activity after 17th century coincides with the devastation of the town following a massive fire in 1689.
Item Type:
Client Report
Uncontrolled Keywords:
Excavation, excavation, archaeological excavation, Cambridgeshire, cambridgeshire, St Ives, st ives, medieval, Medieval, Post-Medieval, post-medieval, post medieval, Post Medieval, medieval pottery, Medieval pottery, Post-Medieval pottery, post-medieval pottery, post medieval pottery, Post Medieval pottery, Pottery, pottery, pot, ceramic, sherd, medieval annular brooch, brooch, Brooch, Annular Brooch, annular brooch, Annular, annular, Medieval Annular Brooch, horn, Horn, Horn Core, horn core, animal remains, animal bone, animal bones, bone, bones, pit, pits, rubbish pit, rubbish pits, quarry pit, extractive pit, post hole, posthole, post holes, postholes, structure, Medieval Fair, medieval fair, 1099, report 1099, Report 1099, OAE report 1099
Subjects:
Geographical Areas > English Counties > Cambridgeshire
Period > UK Periods > Medieval 1066 - 1540 AD
Period > UK Periods > Post Medieval 1540 - 1901 AD
Divisions:
Oxford Archaeology East
Depositing User:

Hamilton

Date Deposited:
24 Jun 2019 08:30
Last Modified:
24 Jun 2019 08:30
URI:
http://eprints.oxfordarchaeology.com/id/eprint/4965
Actions (login required)