Connor, Aileen (2000) Iron Age Pits and Post-Medieval Ditches: Archaeological Evaluation at 90 Glebe Road, Cambridge. [Client Report] (Unpublished)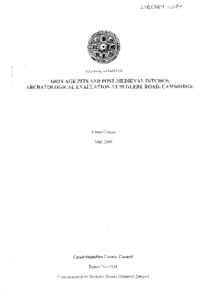 Preview
PDF




CCCAFU_reportA158.pdf


Available under License Creative Commons Attribution Share Alike.
Download (1MB) | Preview
Abstract
An archaeological evaluation was carried out by the Archaeological Field Unit in the grounds of 90 Glebe Road, Cambridge between the 10th and 14th April 2000. The work was carried out on behalf of Berkeley Homes (Eastern) Limited.
Six trenches were placed within the proposed development area. Trench 5 contained a small number of archaeological features of Middle Iron Age date. The remaining trenches all contained ditches, some of which were dated by finds to the post-medieval period although a number contained no dating evidence. These latter features may be inferred to be post-medieval based on their alignments.
The middle Iron Age activity may continue beyond the impact area of the development to the south and west of the evaluation trenches.
Item Type:
Client Report
Uncontrolled Keywords:
archaeological evaluation, archaeological excavation, Cambridgeshire, cambridgeshire, Cambridge, cambridge, Glebe Road, glebe road, Iron Age, iron age, ditch, pottery, post hole, Medieval, medieval, ridge and furrow, Post-Medieval, post-medieval, tile, pottery, clay tobacco pipe, field drain, glass, Undated ditches, undated ditches, ditch, ditches, A158, a158, Report a158, report A158, Report a158, Report A158, CCCAFU report 158
Subjects:
Geographical Areas > English Counties > Cambridgeshire
Period > UK Periods > Iron Age 800 BC - 43 AD
Period > UK Periods > Medieval 1066 - 1540 AD
Period > UK Periods > Iron Age 800 BC - 43 AD > Middle Iron Age 400 - 100 BC
Period > UK Periods > Post Medieval 1540 - 1901 AD
Depositing User:

Archives

Date Deposited:
26 Jun 2019 19:21
Last Modified:
26 Jun 2019 19:21
URI:
http://eprints.oxfordarchaeology.com/id/eprint/4982
Actions (login required)