Hatton, Andrew and Spoerry, Paul (2000) Later Roman Building Remains at Castor Primary School: An Archaeological Evaluation. [Client Report] (Unpublished)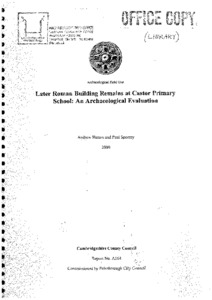 Preview
PDF




CCCAFU_reportA164.pdf


Available under License Creative Commons Attribution Share Alike.
Download (2MB) | Preview
Abstract
In August 2000 an archaeological evaluation was undertaken at Castor Primary School, Castor, Peterborough (TL 1246 9843) adjacent to known high status Roman buildings, perhaps representing a 'palatial complex'. The first phase of fieldwork consisted of a resistivity survey on the area where a new all weather sports surface was proposed. A complex of linear high resistance anomalies was interpreted as probable Roman building remains. This work was followed up with the evaluation trenching between the 14th and 17th of August, in an attempt to confirm this suggestion and also to evaluate the location of a proposed new hall, classroom and other building works.
Seven test pits were excavated across the site to ascertain the presence or absence of archaeological remains. These revealed structural remains of probable 3rd century date in three trenches, consisting of robbed-out walls and one in situ wall (lower course only) and demolition debris, all dating to the Roman period. It is likely that these remains are contemporary with other high status Romano-British buildings known to exist within the envelope of Castor village. Roman pottery sherds and fragments of roof tile and painted wall plaster were recovered, together with later material that may suggest that the building was 'robbed' in the 12th to 13th centuries.
Two cut features and associated buried soils may also be of Roman period and could represent landscaping and/or formal gardens associated with the possible Roman 'palatial complex'.
Item Type:
Client Report
Uncontrolled Keywords:
archaeological evaluation, Archaeological excavation, Cambridgeshire, cambridgeshire, Peterborough, peterborough, Castor, castor, Roman, roman, tile, roof tile, box tile, pottery, concrete, robbed out, mortar, wall plaster, painted plaster, coin, Constans, constans, floor layers, in-situ wall, Lower Nene Valley ware, lower nene valley ware, Cream ware, cream ware, Colour-coated ware, colour-coated ware, Grey ware, grey ware, Imitation Samian, imitatian samian, flaggon handle, Castor Box, castor box, Black Burnished ware, black burnished ware, flanged bowl, dish base, Medieval, medieval, pottery, glazed, Post Medieval, post medieval, pottery, a164, A164, report A164, Report A164, report a164, Report a164, CCCAFU report A164
Subjects:
Geographical Areas > English Counties > Cambridgeshire
Period > UK Periods > Early Medieval 410 - 1066 AD
Period > UK Periods > Medieval 1066 - 1540 AD
Period > UK Periods > Post Medieval 1540 - 1901 AD
Period > UK Periods > Roman 43 - 410 AD
Depositing User:

Archives

Date Deposited:
26 Jun 2019 18:53
Last Modified:
26 Jun 2019 18:53
URI:
http://eprints.oxfordarchaeology.com/id/eprint/4989
Actions (login required)