Vannan, Alastair and Clapperton, Kelly (2009) Sefton Drive Flood Alleviation, Maghull, Merseyside. Desk-Based Assessment, Walkover Survey and Watching Brief. Project Report. Oxford Archaeology North. (Unpublished)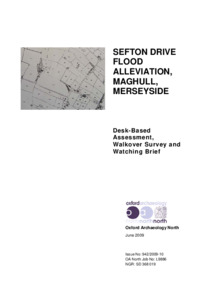 Preview
PDF




L9886_CompleteReport.pdf


Download (1MB) | Preview
Abstract
Following proposals by United Utilities for groundworks associated with flood alleviation, involving the installation of lengths of sewer and a sewer retention tank, at Sefton Drive, Magull, Merseyside (NGR SD 368019, Fig 1), Oxford Archaeology North (OA North) were commissioned to undertake an archaeological desk-based assessment, walkover survey and an archaeological watching brief of the
groundworks.
The desk-based assessment identified 34 sites of archaeological interest within the study area, two of which may be affected by the proposed pipeline (Fig 2). These are
the Scheduled Ancient Monument of Maghull Moated Manor (Site 01; SAM 22446) and Back Lane Cross (Site 12). The walkover survey was conducted through the six fields to be crossed by the pipeline easement, in addition to the site of Mughall Manor (Site 02), the old manor (Site 07), and the Magull Moated Manor (Site 01). No finds or additional features of archaeological significance were identified by the walkover
survey. However, due to the close proximity of the easement to the site of Mughall Manor, a permanent presence-watching brief during all topsoil stripping activities was
recommended.
The archaeological watching brief was undertaken in February 2008, and produced no finds or features of archaeological significance. Several modern drains were observed
across the easement, and most likely corresponded to those recorded to the north-west of Sefton Drive. It was likely that the area around Maghull Moated Manor (Site 01)
comprised rural, dispersed settlement, until the eighteenth and nineteenth centuries, when large areas were drained to provide more agricultural land, and there was an increase in industrialisation. Although no obvious elements of industry were identified during the watching brief, the numerous drains seem to correspond to known farming practices from the eighteenth century onwards.
Actions (login required)