Vannan, Alastair and Bates, Andy (2009) Burscough Waste Water Treatment And Inlet Works, Burscough, Lancashire. Desk-Based Assessment, Strip and Record Excavation and Watching Brief. Project Report. Oxford Archaeology North. (Unpublished)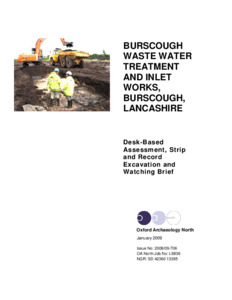 Preview
PDF




Full Report 280109.pdf


Download (28MB) | Preview
Abstract
United Utilities proposed the modification of land at the Wastewater Treatment Works (WwTW) in Burscough, Lancashire (SD 42360 13395). As the development affects areas of potential archaeological significance, dating from the prehistoric and historic periods, Lancashire County Archaeological Service (LCAS) recommended a deskbased
assessment be undertaken for the site. The development was divided between four areas around the current facility. Following the results of the desk-based assessment, and discussions with OA North and United Utilities, LCAS requested further works be undertaken including strip and record excavations in Areas 1 and 2, and watching briefs on groundworks taking place in Areas 1 and 4. This report sets out the results of the each phase of works, followed by a discussion of the findings and recommendations for any further work where appropriate.
The desk-based assessment and site visit was undertaken by OA North in April 2007. In total, 19 sites were identified through inspection of the Lancashire Historic Environment Record (LHER), archival sources, and the site visit. The LHER sites comprised four findspots of worked flint and chert (Sites 1, 2, 10, and 11), four areas of cropmarks identified by aerial photography (Sites 3, 6, 8, and 9), a pond (Site 7), a well (Site 18), two farmsteads with wells (Sites 14 and 16), a railway station (Site 15), and one archaeological event: an evaluation excavation that revealed possible prehistoric metalworking activity (Site 5). The site visit and desk-based assessment revealed one road (Site 12), one drainage channel (Site 13), one stone wall (Site 4), and one crop mark site, identified by aerial photography (Site 19). Five of the sites were prehistoric in origin (Sites 1, 2, 10, 11, and 19), with one site of possible prehistoric origin (Site 5), eight dated to the post-medieval period (Sites 4, 5, 7, 12, 13, 14, 15, and
18), and a further five were of unknown date (Sites 3, 6, 8, 9 and 19).
Actions (login required)