Webb, Robin (2019) Dispersed medieval settlement south of Gipping Road, Stowupland, Suffolk. [Client Report] (Unpublished)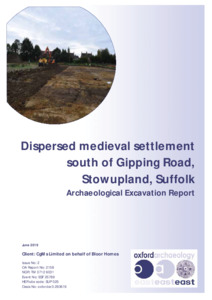 Preview
PDF




OAE_Report 2158_XSFSUP17_LR.pdf


Available under License Creative Commons Attribution Share Alike.
Download (8MB) | Preview
Abstract
During September and October 2017 Oxford Archaeology East carried out open area excavations on land off Gipping Road, Stowupland, Suffolk (centred on TM 0712 6031). Three areas totalling 0.7ha, within a single large arable field, were opened following trial trenching earlier in the year. The work was carried out for CgMs Limited on behalf of Bloor Homes, in advance of residential development.
In the north-west corner of the field were Areas 1 and 3 (0.41ha), divided into two by overhead cables. Areas 1 and 3 revealed six phases of activity, beginning with a series of early plot or field boundaries in the 11th – 12th centuries, which were modified during the 13th century, along with evidence for quarrying. The 14th and 15th centuries saw the enclosure of Old House Pyghtle field and the introduction of a drainage moat and ponds to cope with the heavier clay geology in this location. This period also saw the piecemeal enclosure of fields in the area, with some elements not filled in until the 20th century. A cobbled surface extended from the drainage moat to the north-western edge of Area 1, but did not extend as far as Area 3. The use of the drainage moat ended during the post-medieval period, with deposits consolidating the ground surface so that the larger field could be utilised for agriculture. Ponds had also been marked on the Tithe maps by 1839. Area 1 became entirely part of the larger arable field in the period after 1925.
Area 2 (0.29ha) lay along the eastern edge of the field, c. 160m south-south-east of Gipping Road and covered an area that contained traces of an earlier field system. The main phase of activity was during the 13th to mid-14th centuries. This activity took the form of a farmstead or toft, of which only the corner was revealed in the excavation area, with the remainder continuing outside of the development area to the east. A possible droveway ran along the side of the farmstead, and a watering hole was present just outside. The occupied area was abandoned by the late 14th-15th centuries.
The artefacts and ecofacts recovered during the archaeological works are consistent with rural settlement activity in the Suffolk area and indicate the presence of cereal cultivation and animal, particularly cattle, husbandry. The finds included three coins, clothing adornment items, horseshoes, knives, nearly 24kg of pottery and CBM, 4kg of fired clay, fragments of clay tobacco pipe, glass and quernstones. The faunal evidence included cattle, horse, sheep/goat, pig, dog, mouse, domestic fowl, buzzard and fish bones. Environmental samples revealed mixed cereal grains, wet and dryland weeds, molluscs and charcoal.
Item Type:
Client Report
Uncontrolled Keywords:
Excavation, excavation, archaeological excavation, Suffolk, suffolk, Stowupland, stowupland, Gipping Road, gipping road, Medieval, medieval, post-medieval, Post-medieval, Post-Medieval, post medieval, Post Medieval, Modern, modern, Medieval pottery, medieval pottery, post-medieval pottery, Post-medieval pottery, Post-Medieval pottery, post medieval pottery, Post Medieval pottery, pottery, Pottery, ceramic, sherd, pot, animal remains, CBM, cbm, Ceramic Building Material, ceramic building material, Fired Clay, fired clay, stone, worked stone, quern, lava quern, quernstone, quern stone, lithic, lithics, lithic implement, worked flint, worked flints, flint, flints, CTP, ctp, Clay Tobacco Pipe, clay tobacco pipe, buckle, coin, crotal bell, crottal bell, cobbled surface, surface, moat, drainage moat, drainage, pond, boundary, field boundary, enclosure, plot boundary, quarry, quarrying, quarry pit, pit, post hole, posthole, farmstead, toft, field system, arable, arable land, farming, agriculture, Tithe map, Tithe Map, tithe map, droveway, drove way, animal husbandry, ecofact, ecofacts, cereal cultivation, settlement, 2158, report 2158, Report 2158, OAE report 2158
Subjects:
Geographical Areas > English Counties > Suffolk
Period > UK Periods > Medieval 1066 - 1540 AD
Period > UK Periods > Modern 1901 - present
Period > UK Periods > Post Medieval 1540 - 1901 AD
Divisions:
Oxford Archaeology East
Depositing User:

Hamilton

Date Deposited:
05 Jul 2019 08:24
Last Modified:
05 Jul 2019 08:24
URI:
http://eprints.oxfordarchaeology.com/id/eprint/5008
Actions (login required)