Lee, Richard (2007) Saltworks Lane, Weston, Staffordshire. Archaeological Evaluation. Project Report. Oxford Archaeology North. (Unpublished)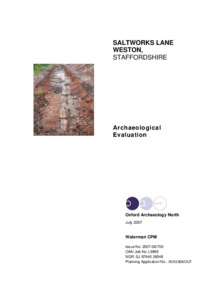 Preview
PDF




WCPM commented report complete.pdf


Download (11MB) | Preview
Abstract
In 2005 George Wimpey Midland Ltd submitted a planning application (planning reference 05/05368/OUT) for a domestic development of a c 3.2 ha brownfield site at Salt Works Lane, Weston, Stafford (NGR SJ 97640 26548). Development of the site, which is divided into eastern and western areas by an arm of the Trent and Mersey Canal and a contiguous access route, will involve the demolition of the existing modern structures on the site, together with considerable disturbance of subsoil deposits during, and in advance
of, construction. A desk-based assessment (Waterman CPM 2005) identified that the site lies within an area of some archaeological potential, encompassing the location of an
historically important post-medieval salt works and manure works and, accordingly, the Staffordshire County Council Archaeologist (SCCA) issued a brief for a programme of
archaeological trial trench evaluation investigating 2.5% of the proposed development area. Following provision of a costed project design to meet the requirements of the
SCCA brief, Waterman CPM, on behalf of George Wimpey Midland Ltd, commissioned Oxford Archaeology North (OA North) to undertake the programme of archaeological evaluation.
The evaluation was undertaken in May 2007 and comprised the excavation of ten 2m wide trenches of varying lengths. Three trenches were located on the western parcel of land which, until the twentieth century, had been in use for agriculture and was, therefore, of unknown archaeological potential. No archaeological deposits were revealed by the evaluation, although a layer of alluvium alluded to episodes of localised flooding.
Actions (login required)