Hughes, Vix (2005) Chamberhall Business Park, Bury Ground, Bury, Lancashire. Archaeological Desk-Based Assessment. Project Report. Oxford Archaeology North. (Unpublished)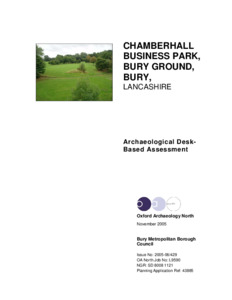 Preview
PDF




Full Report 200409.pdf


Download (24MB) | Preview
Abstract
Bury Metropolitan Borough Council requested that Oxford Archaeology North (OA North) carry out an archaeological desk-based assessment of the proposed site of Chamberhall Business Park (planning application reference 43885), on Bury Ground, Castle Croft Road, Bury, Greater Manchester (centred NGR SD 8008 1121). The assessment aimed to identify the archaeological potential of the site and establish the
significance of the known archaeological resource.
The desk-based assessment comprised a search of both published and unpublished records held by the Sites and Monuments Record (SMR) in Great Manchester; the Lancashire County Record Office in Preston; and the Bury Archives and the local reference collection at Bury Library, as well as various institutions with online facilities, including the National Monuments Record (NMR), English Heritage, the
National Trust and the Archaeology Data Service (ADS).
In total, 15 sites were identified and included four textile mills (Sites 2, 3, 4 and 5), one manorial corn mill (Site 13), a rope walk (Site 15), two bleach works (Sites 8 and
11) two sets of reservoirs (Sites 9 and 12), a weir (Site 10), the site of a hall (Site 1), a row of dwellings and other premises (Site 14), and two bridges (Sites 6 and 7), one of which was a viaduct (Site 7). Only four of the sites lie within the outlined development boundary (Sites 8, 9, 12 and 15) and may be impacted upon. Seven of the 15 sites were recorded in the SMR, but they all lay on the periphery of the study area (Sites 1-7). The remaining eight sites were established from cartographic sources, documentary references and the site inspection (Sites 8-15). None of the sites had any statutory listings.
Actions (login required)