Schofield, Peter (2005) Stickle Tarn, Great Langdale, Cumbria. Archaeological Survey Report. [Client Report] (Unpublished)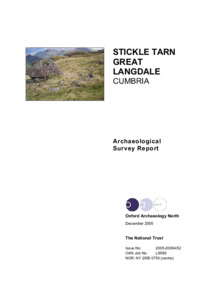 Preview
PDF




Stickle_Rep_All.pdf


Download (19MB) | Preview
Abstract
An archaeological landscape survey was undertaken (of land 1.55km2 in extent) around and to the east of Stickle Tarn, Great Langdale (centred NY 2950 0750) by Oxford
Archaeology North (OA North) at the request of The National Trust. The programme of work was intended to provide background information for the conservation management of
the landscape and archaeological resource and, specifically, to ensure that the winning of stone for nearby path repair does not affect the archaeological resource. The survey was
undertaken as an enhanced identification survey, which entailed checking of existing National Trust Sites and Monuments Records. It comprised systematic examination of the upland terrain and the recording of the monuments using an EGNOS corrected GPS which is accurate to +- 0.5m.
In total, 88 sites of archaeological interest were identified within the study area. Of these, 36 were already recorded in the National Trust SMR, and a further two were recorded as hazard areas within the Lake District National Park Historic Environment Record (LDNPA HER). One of the principle archaeological resources was a group of Neolithic axe factories discovered on the north and west sides of Stickle Tarn and also on the line of a footpath extending east from the tarn. Most of the sites represent primary working of naturally detached rock, but significantly two of the sites were physically removed from the source
outcrop, and the source rock was probably carried to the site. As such, they would appear to reflect camp sites, and the presence of one of them on an easterly-orientated access
route, would suggest that this was a route used in antiquity.
Actions (login required)