Hughes, Vix and Tonks, David (2006) ASDA Supermarket, Bocholt Way, Rawtenstall, Lancashire. Archaeological Desk-Based Assessment and Watching Brief. Project Report. Oxford Archaeology North. (Unpublished)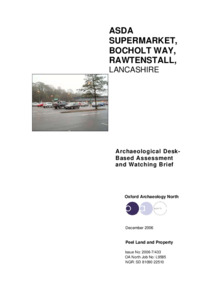 Preview
PDF




completereport.pdf


Download (67MB) | Preview
Abstract
Following the submission by Peel Land and Property of a planning application to redevelop the existing ASDA supermarket building, on Bocholt Way, Longholme, Rawtenstall, Lancashire (SD 81090 22510), Lancashire County Archaeology Service (LCAS) recommended that archaeological investigation be conducted in association with this development. Oxford Archaeology North (OA North) provided a project design for a desk-based assessment and a watching brief during the excavation of wall footings just to the south of the existing supermarket building and was duly
commissioned by Peel Land and Property to undertake the programme of work in September 2005.
The desk-based assessment identified 16 sites of archaeological and historical interest within a 250m radius study area centred upon the proposed development site. Of
these 16, the location of three sites, the Longholme Mill (Site 4), several terraces of back to back houses (Site 15) and a reservoir (Site 16), coincided with that of the proposed development site. The Longholme Mill, first recorded in 1810 processed cotton until its conversion to a cornmill in the second half of the nineteenth century.
In 1897 the mill was converted to produce felt and was owned by MASCO, one of twentieth-century Rawtenstall's leading employers. Combined with the associated reservoir and housing, the mill is of some regional significance, as it forms part of the wider nineteenth-century Lancashire textile industry, whilst at the same time demonstrating the manufacturing diversity that preserved the economic basis of
Rawtenstall into the twentieth century.
Actions (login required)