Bates, Andy (2006) Michlow Drive, Bradwell, Derbyshire. Archaeological Excavation. Project Report. Oxford Archaeology North. (Unpublished)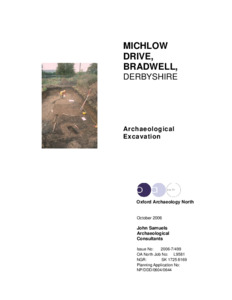 Preview
PDF




Michlow complete rep.pdf


Download (8MB) | Preview
Abstract
Following a planning application (Planning Reference NP/DDD/0604/0644) by Michael Hydes and Associates Ltd (MHA) for a residential development within a field to the north-east of Michlow Drive, Bradwell, Derbyshire (NGR SK 1725 8169),
the Peak District National Park Authority (PDNPA) Conservation Archaeologist requested that a programme of archaeological investigation be undertaken prior to any
development taking place.
Accordingly, a four-trench evaluation was undertaken by Archaeological Research and Consultancy of the University of Sheffield (ARCUS) in 2004. This encountered
the putative remains of a roundhouse gully and several lithic artefacts in Evaluation Trench 2, located within the north-eastern corner of the proposed development site.
Subsequently, PDNPA issued a brief for an excavation on the site. Oxford Archaeology North (OA North) produced a project design to meet this brief and, following its approval, were commissioned to undertake the work by John Samuels
Archaeological Consultants (JSAC), on behalf of MHA.
OA North undertook the fieldwork in October 2005, which comprised the reexcavation and extension of Evaluation Trench 2. A moderate assemblage of Mesolithic and Neolithic stone artefacts was recovered from the topsoil, subsoil and a deposit later identified as colluvium; however, as these artefacts were redeposited and not recovered from stratified archaeological contexts, they have very limited potential
for further analysis. Once the excavation reached the natural drift geology, the putative roundhouse gully and a number of similar features were found and identified
as shale-filled variations in the natural geology.
Actions (login required)