Cooper, Spencer (2000) Fordham Bypass: An Archaeological Desktop Survey. [Client Report] (Unpublished)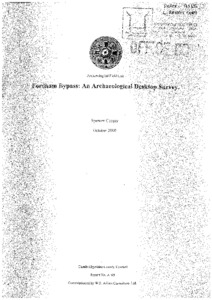 Preview
PDF




CCCAFU_reportA165.pdf


Available under License Creative Commons Attribution Share Alike.
Download (12MB) | Preview
Abstract
This study attempts to define the archaeological potential of land along the route of the proposed A142 Fordham bypass between Tl 612717 and Tl 633669. It also attempts to determine the potential impact of the development proposal upon the archaeological resource and suggest possible mitigation strategies.
The study was commissioned by W.S. Atkins Consultant Ltd on behalf of the Cambridgeshire County Council Department of Transport. The study draws together information from existing sources and the results of recent excavation along and near the proposed route.
The proposed route runs approximately 3Km in a north-south direction. The proposed route starts in the north at the Soham roundabout (at the junction of the present A142 and A123) and crosses Cockpen Rd and Station Road. It terminates near Biggen Stud where it rejoins the A142.
Although the line of the proposed route does not directly coincide with any of the known sites it lies within a zone of high archaeological potential. The area is right in sites from the Neolithic, Bronze Age, Iron Age, Roman and Saxon periods.
There is a strong possibility of locating early Anglo Saxon burials in the northern part of the route since a known cemetery site is located 200m to the east of the proposed route way.
There is a strong possibility of encountering remains of Bronze Age or Iron Age date at the southern end of the route since this lies very close to known cropmarks which are likely to be Bronze Age in date and to excavations of Bronze Age and Iron Age date. Furthermore an Anglo Saxon cemetery at Biggen Stud at the south end of the route indicates there is a strong possibility of encountering further burials within the proposed new road corridor.
Item Type:
Client Report
Uncontrolled Keywords:
Cambridgeshire, cambridgeshire, Fordham, fordham, Bronze Age, bronze age, Iron Age, iron age, Roman, roman, Anglo Saxon, anglo saxon, Desktop Survey, desktop survey, DBA, dba Neolithic, neolithic, burial, pottery, flint, burnt, cropmark, fieldwalking, aerial photography, Medieval, medieval, A165, a165, report A165, report a165, Report A165, Report a165, CCCAFU report A165
Subjects:
Geographical Areas > English Counties > Cambridgeshire
Period > UK Periods > Bronze Age 2500 - 700 BC
Period > UK Periods > Early Medieval 410 - 1066 AD
Period > UK Periods > Iron Age 800 BC - 43 AD
Period > UK Periods > Medieval 1066 - 1540 AD
Period > UK Periods > Neolithic 4000 - 2200 BC
Period > UK Periods > Roman 43 - 410 AD
Depositing User:

Archives

Date Deposited:
06 Aug 2019 08:34
Last Modified:
06 Aug 2019 08:34
URI:
http://eprints.oxfordarchaeology.com/id/eprint/5031
Actions (login required)