Connor, Aileen (2001) Prehistoric and Romano-British Settlement and Field Systems: An Archaeological Evaluation at Fordham Road Allotments, Soham. [Client Report] (Unpublished)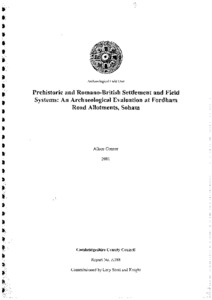 Preview
PDF




CCCAFU_reportA188.pdf


Available under License Creative Commons Attribution Share Alike.
Download (4MB) | Preview
Abstract
An archaeological evaluation took place on a 2 hectare site of former allotments on Fordham Road, Soham (TL 6025 7250) between May 21st and June 6th 2001. The work was undertaken by staff of the Archaeological Field Unit of Cambridgeshire County Council. Eleven trenches were excavated by a tracked mechanical excavator with a flat bladed ditching bucket under the supervision of an archaeologist. The total length of trenching was 550m, all the trenches were 1.8m wide.
An archaeological desk-top survey was conducted of the area around the site prior to trenching.
Every trench contained archaeological features, the largest number of features were located in the southern half of the area, but the character of the features in the northern part of the area also indicate settlement.
The evaluation has shown that the site was probably settled during prehistoric, and Roman periods. The prehistoric evidence points to a period at the end of the Bronze Age and beginning of the Iron Age.
Evidence for prehistoric settlement occurs in all the trenches, the evidence in the northern trenches was not obscured by activity dating to the Roman period and comprised at least two rectangular ditched enclosures associated with evidence for timber buildings and rubbish pits. The small quantity of pottery recovered from this area of the site may indicate an early date for the occupation, or possibly a variation in its character.
The southern area of the site showed evidence for settlement in the Late Bronze Age/Early Iron Age and Roman periods. Rectangular ditched enclosures on two distinct alignments were found in the more southerly trenches, and continued to the north. This area of settlement was probably bounded on its north side (trench 5) by a metalled surface, possibly a track or Holloway. To the south of this track feature density increased dramatically towards Fordham Road. The most southerly of the trenches (trench 10) contained ditches and pits of both prehistoric and Roman date. Roman features contained large quantities of well preserved Roman pottery, roof tiles and animal bone. This coupled with evidence for timber buildings strongly suggests the presence of a Roman settlement on this site. Recent evaluation by the Hertfordshire Archaeological Trust to the west of the allotments indicates that the Roman settlement continued to the west. The boundaries of the prehistoric and Roman settlements on this site were not uncovered by this evaluation and are likely to continue beyond the confines of the development area.
Item Type:
Client Report
Uncontrolled Keywords:
Soham, soham, Cambridgeshire, cambridgeshire, Bronze Age, bronze age, Iron Age, iron age, Roman, roman, A188, ditched enclosure, timber building, pottery, rubbish pit, pit, rubbish, rectangular enclosure, enclosure, metalled track, trackway, holloway, ditch, pit, roof tile, animal bone, animal remains, animal bones, bone, bones, settlement, evaluation, Evaluation, Bronze Age pottery, bronze age pottery, Iron Age pottery, iron age pottery, Roman pottery, roman pottery, a188, report a188, Report a188, report A188, Report A188, CCCAFU report A188
Subjects:
Geographical Areas > English Counties > Cambridgeshire
Period > UK Periods > Bronze Age 2500 - 700 BC
Period > UK Periods > Iron Age 800 BC - 43 AD
Period > UK Periods > Roman 43 - 410 AD
Depositing User:

Archives

Date Deposited:
10 Sep 2019 13:26
Last Modified:
10 Sep 2019 13:26
URI:
http://eprints.oxfordarchaeology.com/id/eprint/5051
Actions (login required)