Hatton, Andrew (2001) Land off Mayor's Walk, Peterborough: An Archaeological Evaluation. [Client Report] (Unpublished)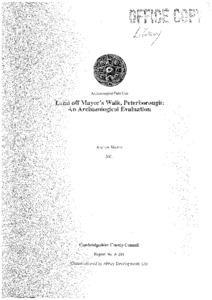 Preview
PDF




CCCAFU_reportA191.pdf


Available under License Creative Commons Attribution Share Alike.
Download (8MB) | Preview
Abstract
Between the 30th July and 3rd August the Archaeological Field Unit of Cambridgeshire County Council conducted an archaeological evaluation on land off Mayor's Walk, Peterborough in advance of the construction of dwellings and associated ground works. The aim of the intervention was to record and assess the nature of any archaeological evidence encountered before development and hence to assess the potential for surviving remains.
Given the presence of prehistoric features and artefacts, Roman settlement evidence together with medieval and post medieval occupational encircling the development area, particular attention was paid to the identification and interpretation of deposits and features in the context of what is a rich archaeological landscape near to the centre of Peterborough.
Five out of the seven trenches excavated contained archaeological features. The features identified occupation evidence.
The evaluation has shown that the site was probably settled during the prehistoric and Roman periods. The prehistoric evidence points to occupation at the end of the Iron Age.
Evidence for Roman occupation on the site is restricted to a single feature, which on excavation was found to contain fragments pottery, roof tile, and a fragment of building material. The nature of the material recovered from the feature, strongly suggest the presence of a high status building within or close to the development site.
Item Type:
Client Report
Uncontrolled Keywords:
Peterborough, peterborough, Cambridgeshire, cambridgeshire, A191, a191, Report A191, report A191, Report a191, report a191, CCCAFU report A191, Iron Age, iron age, Roman, roman, Medieval, medieval, post medieval, post-medieval, Post Medieval, Post-Medieval, pottery, roof tile, Evaluation, evaluation, archaeological evaluation, Iron Age pottery, iron age pottery, Roman pottery, roman pottery, Medieval pottery, medieval pottery, post medieval pottery, post-medieval pottery, Post Medieval pottery, Post-Medieval pottery, Roman roof tile, roman roof tile, Evaluation, evaluation
Subjects:
Geographical Areas > English Counties > Cambridgeshire
Period > UK Periods > Iron Age 800 BC - 43 AD
Period > UK Periods > Medieval 1066 - 1540 AD
Period > UK Periods > Post Medieval 1540 - 1901 AD
Period > UK Periods > Roman 43 - 410 AD
Depositing User:

Archives

Date Deposited:
13 Sep 2019 12:06
Last Modified:
13 Sep 2019 12:06
URI:
http://eprints.oxfordarchaeology.com/id/eprint/5054
Actions (login required)