Casa-Hatton, Rebecca (2001) Early-Mid Saxon Activity at Land adjacent to No. 12, Hillside Meadow, Fordham: An Archaeological Evaluation. [Client Report] (Unpublished)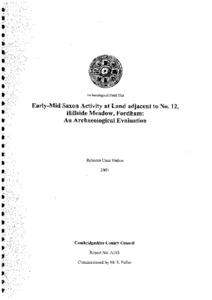 Preview
PDF




CCCAFU_reportA192.pdf


Available under License Creative Commons Attribution Share Alike.
Download (2MB) | Preview
Abstract
On the 24th September 2001 staff of the Archaeological Field Unit (AFU) of Cambridgeshire County Council conducted an archaeological evaluation on land adjacent to No. 12, Hillside Meadow, Fordham (NGR TL 6321 7057) in advance of a proposed residential development.
A 16m long trench was mechanically excavated in order to expose potential archaeological remains prior to groundwork.
The evaluation revealed at least two phases of activity. The earliest phase consisted of a boundary ditch, post holes (from post-built structures?), and gullies (property enclosures?). Finds were rare but consistent with domestic activity (bone and pottery) possibly entailing peripheral occupation within the Saxon nucleus of Fordham.
More recent activity was represented by a phase of levelling with the introduction of a former topsoil to the area for agricultural/horticultural use. This deposit had been cut by a ditch and a pit, and was sealed by modern topsoil.
Item Type:
Client Report
Uncontrolled Keywords:
Fordham, fordham, Cambridgeshire, cambridgeshire, Anglo Saxon, Anglo-Saxon, anglo saxon, anglo-saxon, early medieval, Early Medieval, ditch, boundary, boundary ditch, posthole, post hole, post-built structure, structure, building, gully, property enclosure, enclosure, animal bone, animal remains, bones, bone, pottery, agriculture, horticulture, Anglo Saxon pottery, Anglo-Saxon pottery, anglo saxon pottery, anglo-saxon pottery, early medieval pottery, Early Medieval pottery, A192, a192, report a192, Report a192, Report a192, Report A192, CCCAFU report A192
Subjects:
Geographical Areas > English Counties > Cambridgeshire
Period > UK Periods > Early Medieval 410 - 1066 AD
Depositing User:

Archives

Date Deposited:
13 Sep 2019 12:15
Last Modified:
13 Sep 2019 12:15
URI:
http://eprints.oxfordarchaeology.com/id/eprint/5055
Actions (login required)