Cooper, Spencer and Kenney, Scott (2001) Medieval Remains at Priory House, Swavesey: An Archaeological Evaluation. [Client Report] (Unpublished)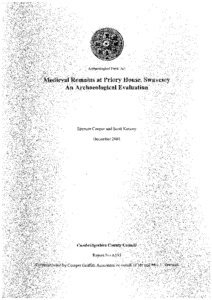 Preview
PDF




CCCAFU_reportA193.pdf


Available under License Creative Commons Attribution Share Alike.
Download (3MB) | Preview
Abstract
On 7th September, 4th and 25th October, 2001 an archaeological evaluation was undertaken at Priory House, Swavesey by staff of the Archaeological Field Unit of Cambridgeshire County Council. The work was carried out in advance of house extensions and stable refurbishment.
The significance of the site is derived from the fact it lies within the boundary of eleventh century priory. St Andrew's church, to the east, and earthworks on the remaining three sides of the site are visual remains of the priory.
Trench 1 revealed a single undated pit and a Victorian wall. Trench 2 revealed a section through a bank which appears to be part of an earthwork associated with the priory. The bank runs on a north-east-south-west alignment and may relate to a canal and a docking area. The bank sealed an undated ditch that ran on an eastwest alignment. Trench 3 revealed a post-medieval pit and a ditch that ran on a northsouth alignment. A medieval architectural fragment was recovered from the ditch.
This work represents the first intrusive archaeological investigation of Swavesey Priory and the associated earthworks and has produced significant findings.
Observation of the foundation trenches for the extension to the main house revealed another ditch, running obliquely beneath the current back wall. This feature was oriented in the same general alignment as the surviving priory earthworks and suggests the continuation of a known enclosure.
Item Type:
Client Report
Uncontrolled Keywords:
Swavesey, swavesey, Cambridgeshire, cambridgeshire, A193, Medieval, medieval, post medieval, post-medieval, Post Medieval, Post-Medieval, pit, wall, bank, earthwork, ditch, canal, docking, architectural, enclosure, Swavesey Priory, swavesey priory, Victorian wall, a193, report a193, Report a193, report A193, Report A193, CCCAFU report A193
Subjects:
Geographical Areas > English Counties > Cambridgeshire
Period > UK Periods > Medieval 1066 - 1540 AD
Period > UK Periods > Post Medieval 1540 - 1901 AD
Depositing User:

Archives

Date Deposited:
13 Sep 2019 12:23
Last Modified:
13 Sep 2019 12:23
URI:
http://eprints.oxfordarchaeology.com/id/eprint/5056
Actions (login required)