Casa-Hatton, Rebecca (2001) Allotment Site, Newmarket Road, Cambridge: A Desktop Study. [Client Report] (Unpublished)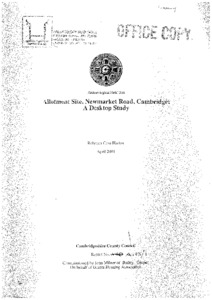 Preview
PDF




CCCAFU_reportA195.pdf


Available under License Creative Commons Attribution Share Alike.
Download (10MB) | Preview
Abstract
This Desktop Assessment was undertaken by Cambridgeshire County Council Archaeological Field Unit as part of the requirements prior to residential development of a plot of land adjacent to Newmarket Road, Cambridge (TL 4847 5931).
The development site comprises an allotment area of 1.28 hectares to the north of Newmarket Road. The area is located on the eastern edge of the historic city of Cambridge, near the western boundary of the parish of Fen Ditton and north of Teversham.
The present study shows that the allotment area lies within a rich archaeological landscape, being surrounded by sites of prehistoric and Roman date. Although no finds are known from the subject site itself, its archaeological potential can be considered moderate to high, with particular reference to the Iron Age and Roman period.
The area does not appear to have been affected by modern development or disturbance. The state of preservation of any archaeological remains and deposits that might be encountered during excavation is likely to be good.
Item Type:
Client Report
Uncontrolled Keywords:
Cambridge, cambridge, Cambridgeshire, cambridgeshire, A195, a195, Report A195, Report a195, report A195, report a195, CCCAFU report A195, Iron Age, iron age, Roman, roman, DBA, dba, Desk-Based Assessment, desk-based assessment
Subjects:
Geographical Areas > English Counties > Cambridgeshire
Period > UK Periods > Iron Age 800 BC - 43 AD
Period > UK Periods > Roman 43 - 410 AD
Depositing User:

Archives

Date Deposited:
18 Sep 2019 10:10
Last Modified:
18 Sep 2019 10:10
URI:
http://eprints.oxfordarchaeology.com/id/eprint/5058
Actions (login required)