Hatton, Andrew (2001) Roman Building Debris at Castor Primary School An Archaeological Evaluation. [Client Report] (Unpublished)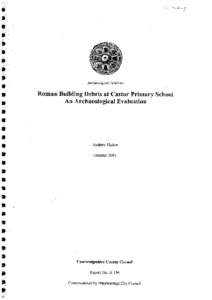 Preview
PDF




CCCAFU_reportA196.pdf


Available under License Creative Commons Attribution Share Alike.
Download (2MB) | Preview
Abstract
In September and October 2001 an archaeological evaluation was undertaken at Castor Primary School, Castor, Peterborough (TL 1248 9845) which is known to lie within the boundaries of high status Roman buildings, perhaps representing a 'palatial complex'. The work consisted of a single area (7m x 4m) stripped down to a depth of approximately 0.30, which is the maximum needed for the construction of a concrete raft. The concrete raft would then function as the foundation for a new library.
The reason for the excavation of the area was to ascertain the presence or absence of archaeological remains. The excavation revealed a layer of Roman debris, consisting concrete, tile fragments, animal bone and occasional sherds of pottery (probably 3rd century). A single Roman narrow linear ditch was also identified as well as a large oval pit of unknown date.
It is likely that the remains are contemporary with other high status Romano-British buildings known to exist within the envelope of Castor village.
Item Type:
Client Report
Uncontrolled Keywords:
Castor, castor, Peterborough, peterborough, Roman, roman, building, A196, a196, report a196, report a196, Report a196, Report A196, CCCAFU report A196, tile, debris, concrete, animal bone, pottery, linear ditch, ditch, pit, oval pit, CBM, cbm, Ceramic Building Material, ceramic building material, Roman pottery, roman pottery, pot, sherd, ceramic, Evaluation, evaluation, archaeological evaluation
Subjects:
Geographical Areas > English Counties > Cambridgeshire
Period > UK Periods > Roman 43 - 410 AD
Depositing User:

Archives

Date Deposited:
18 Sep 2019 10:36
Last Modified:
18 Sep 2019 10:36
URI:
http://eprints.oxfordarchaeology.com/id/eprint/5059
Actions (login required)