Kemp, S. N. (2002) Archaeological Evaluation of Prehistoric Archaeology at Dimmock's Cote Wicken. [Client Report] (Unpublished)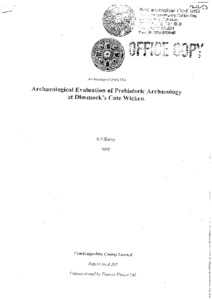 Preview
PDF




CCCAFU_reportA205.pdf


Available under License Creative Commons Attribution Share Alike.
Download (3MB) | Preview
Abstract
This study was commissioned by Francis Flower Limited in advance of mineral extraction at the lime quarry of Dimmock's Cote, Wicken. The application area is a sub-rectangular property of approximately 6.5ha, part of which had been dealt with by earlier excavations. The site is centred on TL 5470/7240 and field evaluation consisted of 1,518m of trenching. Archaeological trenches were opened on 15th May and remained open until the 14th June.
The archaeology found within the evaluation area continued the dispersed pattern of activity seen at Dimmock's Cote since 1994. Prior to 1994 a series of Bronze Age buildings and other structures had been identified and precipitated in total four phases of examination prior to the present study. The results of the archaeological analysis indicate that there are pockets of intense prehistoric activity occurring beyond the immediate margins of the settlement.
The 2002 evaluations show that these activities include post-built structures, where during the course of it's abandonment a 'ritual' of intentional placement of pottery took place, a large pit provisionally interpreted as a well which was back filled with deposits containing significant quantities of pottery, animal bone and local fossiliferous limestone. Artefactually this well was the richest feature on the site. In addition a crouched Bronze Age inhumation was found on the margins of a barrow excavated in 1997.
Results to date suggest a scenario is of an open landscape with an unenclosed settlement and pockets of activity occurring beyond the main focus of habitation. These areas have been geared to pastural activities, industrial activities such as smelting and quarrying, and also ritual activities particularly burial.
In addition to the prehistoric activity there is slight evidence for Iron Age or Roman field boundaries and much of the site is covered in traces of the medieval field system.
Item Type:
Client Report
Uncontrolled Keywords:
Wicken, wicken, A205, Cambridgeshire, cambridgeshire, Bronze Age, bronze age, Iron Age, iron age, Roman, roman, Medieval, medieval, settlement, post-built structure, ritual abandonment, pottery, pit, animal bone, fossiliferous limestone, limestone, crouched inhumation, inhumation, body, skeleton, HSR, hsr, barrow, pastural, industrial, smelting, quarrying, ritual, burial, agriculture, Evaluation, evaluation, a205, report A205, report a205, Report a205, Report A205, Bronze Age pottery, bronze age pottery, Iron Age pottery, iron age pottery, Roman pottery, roman pottery, Medieval pottery, medieval pottery, pot, ceramic, sherd, field system
Subjects:
Geographical Areas > English Counties > Cambridgeshire
Period > UK Periods > Bronze Age 2500 - 700 BC
Period > UK Periods > Iron Age 800 BC - 43 AD
Period > UK Periods > Medieval 1066 - 1540 AD
Period > UK Periods > Roman 43 - 410 AD
Depositing User:

Archives

Date Deposited:
23 Sep 2019 14:32
Last Modified:
23 Sep 2019 14:32
URI:
http://eprints.oxfordarchaeology.com/id/eprint/5063
Actions (login required)