Kenney, S. (2002) Multiperiod Remains on the Site of the Proposed Genome Campus Extension, Hinxton: An Archaeological Evaluation. [Client Report] (Unpublished)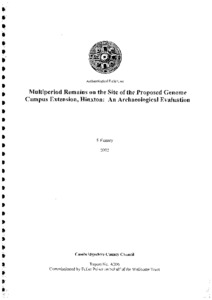 Preview
PDF




CCCAFU_reportA206.pdf


Available under License Creative Commons Attribution Share Alike.
Download (2MB) | Preview
Abstract
In July 2002, the Archaeological Field Unit of Cambridgeshire County Council conducted an archaeological evaluation on 31.7ha of land immediately to the south of the Genome Campus, Hinxton, Cambridgeshire (TL 500/433). This was in advance of proposed extensions to the Genome Campus and in addition to previous evaluation trenching on the same site in 1998 (Kemp and Spoerry 1998).
Nine trenches were opened by machine and seven of these were found to contain archaeological remains. Among the features excavated were several large ditches, pits, post holes and gullies. Broadly, the features fell within the zones defined by the previous phases of evaluation and both confirm and extend the dating of much of the archaeology.
The earliest archaeology present within the development area consists of a general background scatter of Neolithic, Bronze Age and Iron Age flint work that lies within the archaeological features. A single Bronze Age feature was also identified within Trench 39. There was a marked absence of securely dated Iron Age and Roman features from this phase of work, however a previously undated cropmark can now be attributed in part to the early post-Conquest period, and may represent the restatement of an earlier boundary. Further medieval features were located just to the south of the current sports field, the area of the 1995 earthwork survey that revealed house platforms and closes. Several features could not be dated because of the absence of pottery or other datable artefacts, but those containing fragments of Niedermendig Lava quern could be Saxon or earlier.
Item Type:
Client Report
Uncontrolled Keywords:
Hinxton, hinxton, Cambridgeshire, cambridgeshire, Neolithic, neolithic, Bronze Age, bronze age, Iron Age, iron age, Anglo Saxon, anglo saxon, Medieval, medieval, Anglo-Saxon, anglo-saxon, Early Medieval, early medieval, flint, cropmark, boundary, house platform, close, quern, Evaluation, evaluation, archaeological evaluation, Niedermendig, A206, a206, report a206, report A206, Report a206, Report A206, CCCAFU report A206
Subjects:
Geographical Areas > English Counties > Cambridgeshire
Period > UK Periods > Bronze Age 2500 - 700 BC
Period > UK Periods > Early Medieval 410 - 1066 AD
Period > UK Periods > Iron Age 800 BC - 43 AD
Period > UK Periods > Medieval 1066 - 1540 AD
Period > UK Periods > Neolithic 4000 - 2200 BC
Depositing User:

Archives

Date Deposited:
24 Sep 2019 10:37
Last Modified:
24 Sep 2019 10:37
URI:
http://eprints.oxfordarchaeology.com/id/eprint/5064
Actions (login required)