Kenney, S. (2001) Iron Age Settlement and a Roman Vineyard on Land off Hall Drive, Caldecote: An Archaeological Evaluation. [Client Report] (Unpublished)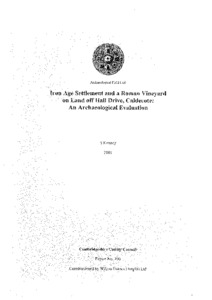 Preview
PDF




CCCAFU_report200.pdf


Available under License Creative Commons Attribution Share Alike.
Download (5MB) | Preview
Abstract
An archaeological evaluation of a 2.39ha area was undertaken on land off Hall Drive, Highfields, Caldecote, Cambridgeshire (TL3529/5858). This was carried out in advance of a proposed housing development and in response to a brief from the County Archaeology Office.
Nine trenches were opened and archaeological features were observed in all of them. Medieval furrows were found to continue the pattern seen in neighbouring excavations to the north, and on aerial photographs. A curvilinear ditch was excavated that may be part of an Iron Age roundhouse. A system of parallel ditches bounded by a ditch perpendicular to this system was dated to the early Roman period, and showed great similarity to the Iron Age and Roman field systems and enclosures excavated just to the north of Hall Drive.
Similar Roman agricultural features have been identified on several sites in Cambridgeshire and neighbouring counties. At Woolaston in Northamptonshire, for example, grape pollen provided evidence to support an interpretation that the features may relate to a vineyard. While no evidence like this has been found so far at Caldecote, the closest parallel physically for these features is the arrangement found at Wollaston.
Item Type:
Client Report
Uncontrolled Keywords:
Caldecote, caldecote, Cambridgeshire, cambridgeshire, Wollaston, wollaston, Iron Age, iron age, Roman, roman, Medieval, medieval, furrow, curvilinear ditch, ditch, roundhouse, parallel ditch, field system, enclosure, agriculture, vineyard, 200, Report 200, report 200, CCCAFU report 200, Evaluation, evaluation, archaeological evaluation
Subjects:
Geographical Areas > English Counties > Cambridgeshire
Period > UK Periods > Iron Age 800 BC - 43 AD
Period > UK Periods > Medieval 1066 - 1540 AD
Period > UK Periods > Roman 43 - 410 AD
Depositing User:

Archives

Date Deposited:
24 Sep 2019 12:21
Last Modified:
24 Sep 2019 12:21
URI:
http://eprints.oxfordarchaeology.com/id/eprint/5066
Actions (login required)