Kenney, S. (2002) Middle and Late Iron Age Settlement and Roman Agriculture at Highfields, Caldecote, Cambridgeshire: Assessment and Post-Excavation Project design. [Client Report] (Unpublished)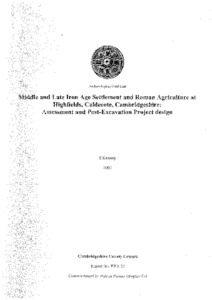 Preview
PDF




CCCAFU_reportPXA35.pdf


Available under License Creative Commons Attribution Share Alike.
Download (8MB) | Preview
Abstract
Excavation has been undertaken in Caldecote Highfields, Cambridgeshire (TL 3546/5882). The excavation was commissioned by Wilcon Homes Ltd., who are currently redeveloping the site and was undertaken by Cambridgeshire County Council Archaeological Field Unit (AFU).
The general potential of the site was defined by a phase of evaluation trenching carried out by the AFU during 1996. Results from the evaluation suggested that an Iron Age and Roman occupation site had survived in the form of earth-cut features such as ring ditches, enclosure systems, and pits. It was suggested in the evaluation report that the site did not extend across the whole of the current development area (Oakey 1996). The background contained in the report will not be reiterated here.
In 2000, an excavation was carried out on the land immediately to the north of this site that further refined the model of archaeological potential. Both Iron Age and Roman settlmenet was revealed at the northern end of the site, while an Iron Age enclosure around a roundhouse was partially exposed at the southern end. Part of a trackway and the start of a Roman field system lay on the eastern side of the site, and the headland of the medieval ridge and furrow appeared to conform to the line of the trackway.
Item Type:
Client Report
Uncontrolled Keywords:
Caldecote, caldecote, PXA35, Cambridgeshire, cambridgeshire, Iron Age, iron age, Roman, roman, ring ditch, ditch, enclosure, pit, roundhouse, trackway, field system, ridge, furrow, ridge and furrow, Medieval, medieval, PXA, pxa, Post-Excavation Assessment, post-excavation assessment, Post-excavation Assessment, Excavation, excavation, pxa35, CCCAFU report PXA35
Subjects:
Geographical Areas > English Counties > Cambridgeshire
Period > UK Periods > Iron Age 800 BC - 43 AD
Period > UK Periods > Medieval 1066 - 1540 AD
Period > UK Periods > Roman 43 - 410 AD
Depositing User:

Archives

Date Deposited:
25 Sep 2019 08:22
Last Modified:
25 Sep 2019 08:22
URI:
http://eprints.oxfordarchaeology.com/id/eprint/5067
Actions (login required)